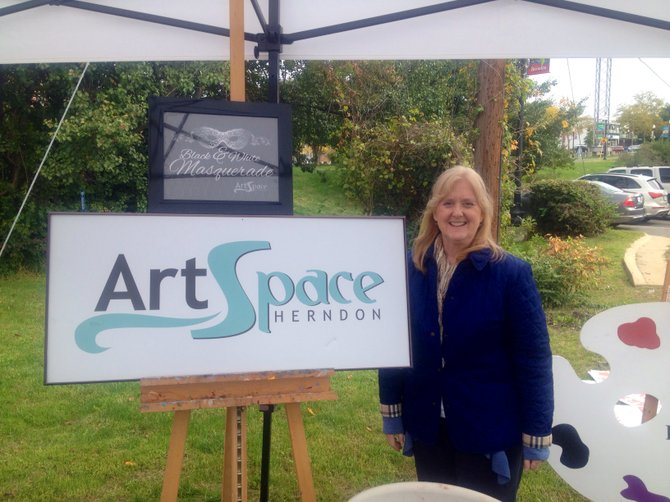 Finalists were recognized at the ArtSpace Herndon Expressions Portrait Exhibit during the Saturday, Oct. 11 artists reception. The art exhibit displays more than 20 portrait pieces composed by 18 artists. An artists reception open to the public was held to kick off the Herndon Fine Arts Festival.
"I would like to express how happy we are to be partnering for the sixth time with the Herndon Foundation for the Cultural Arts to bring you the Expressions Portrait Competition for the sixth year," said Executive Director of the Council for the Arts of Herndon Signe Friedrichs. Judging the competition this year was artist Jordan Xu.
The artists reception brought more than 50 attendees. "This year was just as difficult as last year in judging," said Jordan Xu. "I just had to go with my gut feeling… I looked for quality and how expressive the painting was."
Prizes were awarded to the first, second and third place winners. The exhibit includes the finalists from the ArtSpace Herndon's annual portrait competition. Jurors Judith Peck and Michela Mansuino evaluated the entries from participating artists and selected the finalists.
First place went to Samantha H. E. Hand for her work "Icarus' Daughters Grace." Her work "Clio" also won an honorable mention. Hand and her family reside in Hampton Roads, Va. Second place was won by Patricia McMahon Rice. Rice has had a lifelong interest in art and since l994, has been teaching art in her home studio. Third place was won by Reston resident and artist Debby Bird for her work "Arms of Experience."
"It is a picture of my daughter and my 99-year-old grandma," said Bird. "I am excited to be in the show this year."
Attending the art reception were artists Noble Adler and Mark Giaimo. "I got the announcement that my piece was accepted for the exhibit on my birthday," said Adler, a resident of Silver Spring, Md. "I am grateful to be part of this exhibit."
An artist from Vienna, who works in oil, pastel, watercolor and charcoal, Cathleen Lawless' work has been juried into local, regional, and national shows, including the Salmagundi Club in New York City. One of her two pieces on display at ArtSpace includes a portrait of her son Peter.
"It took me about six months to finish it, I did not work on it continuously, it is one of my favorite subjects," said Lawless. The portrait exhibit will be on display at ArtSpace Herndon until Nov. 2, 2014.
OVER THE WEEKEND of Oct. 11-12, a fine art festival was held outside ArtSpace Herndon. At an outdoor art gallery created with the handmade work of artists from across America, visitors had the opportunity to experience paintings, jewelry, sculpture, photography, ceramics, glass, mixed-media, woodworking and more.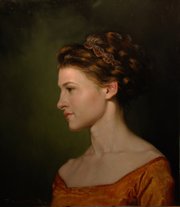 This event was hosted by The Herndon Foundation for the Cultural Arts and ArtSpace Herndon and directed by Paragon Fine Art Festivals. "It is a great joint project for the Council for the Arts and ArtSpace Herndon," said Friedrichs.
"This festival was so nice," said tenor and actor Tim McKee, a resident of Reston. "I like the whole unity of the project. To have artists and entertains come together is nice."
The Council for the Arts of Herndon is hosting Arts Week in Herndon taking advantage of a holiday week to feature all kinds of local art. Upcoming art related events include the Oct. 16 ArtsCrawl where artists will have some of their work on display at downtown Herndon restaurants including Jimmy's Old Town Tavern, the Mediterranean Breeze, O'Sullivan's Irish Pub, the Ice House Café and Oyster Bar. Light appetizers will be available.
On Oct. 17, clay artists will demonstrate their differing sculpting techniques at an event called Clay and Champagne at ArtSpace Herndon. The event will include live music by local Bluegrass and Blues artist Jerry Irwin and refreshments. ArtsWeek will close with the Black and White Masked Ball gala on Oct. 18, an elegant black tie affair. For more information on the 2014 ArtsWeek visit herndonarts.org/arts-week.