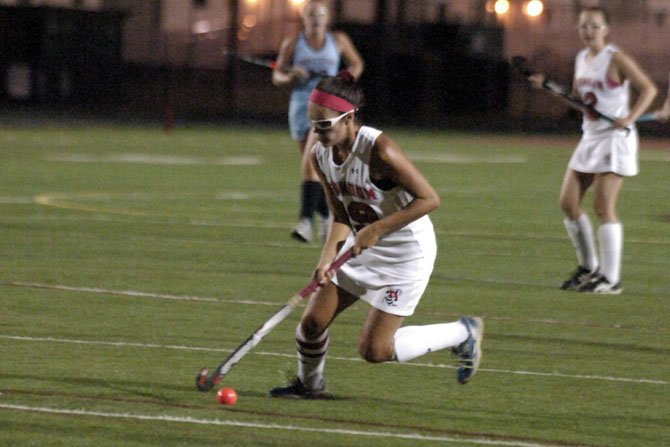 The Herndon field hockey team felt the sting of surrendering three late goals in a 5-4 loss to defending 6A state champion Westfield on Oct. 8. Two days later, the Hornets showed it would take more than a disappointing defeat to derail their successful season.
Herndon blanked the Oakton Cougars 3-0 on Oct. 10 at Herndon High School. The Hornets improved to 14-1 overall and 3-1 against Conference 5 opponents.
The win over Oakton followed a last-second home loss to Westfield during which Herndon was in control until late in the second half. Head coach Mary Miller said Herndon led 4-2 with less than four minutes remaining when the Hornets thought they had scored a goal during a penalty corner. The officials conferenced, but no goal was awarded. From there, Miller said, momentum shifted and Westfield scored three goals in the final minutes, including the game-winner in the closing seconds.
"It was a tough loss," Miller said. "… [There were] a couple tough calls that were made that were [difficult] for our team [to overcome]. We didn't finish on top."
It was Herndon's first loss of the season and snapped a 13-game winning streak.
"Initially the loss was very hard, especially due to its dramatic fashion," Herndon senior forward Sofia Palacios wrote in an email. "However, despite the loss we played really well against a strong opponent. Every loss is a learning experience and this game allowed us to highlight our strengths and gave us the ability to see what we need to work on for future games."
Herndon's Taylor Stone scored two goals against Westfield, and Jamie Wright and Grace Caron each scored one.
Two days after the loss, Herndon returned to its winning ways, posting its 10th shutout of the season during a win over Oakton.
"Having a game just two days after playing Westfield was good for the team because it gave us a chance to bounce back and move on," Palacios wrote. "Getting a solid conference win really got us back on track and ready for the remainder of the season. The Oakton game was by no means pretty but it showed that we can tough it out and get the win."
Wright, Caron and Stone each scored a goal against the Cougars.
"I think they responded really well," Miller said. "Even by the end of the [Westfield] game, they were disappointed but they keep everything in such great perspective."
In 15 games this season, Herndon has outscored the opposition 66-9. Westfield is the only opponent to score more than one goal in a game against the Hornets.
"Over the past couple of weeks, we have played some beautiful hockey," Palacios wrote. "Even during the Westfield game we showed that we can compete with anyone. Hopefully, we can transfer our high level of play and success from the regular season into the postseason."
Herndon will close the regular season with a road game against Chantilly tonight at 7:30 p.m. The Hornets and Chargers are both 3-1 in the conference, with each having lost to Westfield. The winner secures the No. 2 seed in the Conference 5 tournament, which comes with a first-round bye and an automatic berth in the 6A North region tournament.
"We knew [last] week and [this] week would be tough," Miller said. "We were playing our most difficult games of the season --- Oakton, Westfield, Chantilly, boom, boom, boom. I think we're playing well. I think we played a good game and a tough game against Westfield and good game against Oakton. We know Chantilly is good … and we know we have a tough game on Wednesday.
"… The Westfield game was a tough game, but it's one of those [that], hopefully in the long run, serves you well."