In an era of "Top Chef" and other popular televised cooking competitions, it is hard to imagine a more grueling test than those on TV, dramatized with musical scores and commercial breaks. Chef Timothy Recher of Alexandria, however, is gearing up to take the most prestigious culinary exam that the American Culinary Federation has to offer. From Oct. 26 through Nov. 2, Recher will be taking the AFC's Certified Master Chef exam at Le Cordon Bleu Culinary Arts in Los Angeles.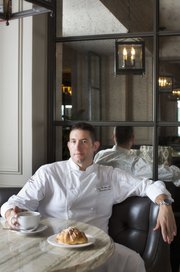 "It's something I have been working toward for a very long time," Recher, the Army Navy Country Club's executive chef, said. "It's humbling and exciting."
Recher is one of only 11 candidates across the country taking the exam this year, which the ACF selected after a comprehensive application process.
Chef Ken Arnone, who has been an AFC Certified Master Chef since 2003 and is the chairman for the CMC Certified Master Pastry Chef Subcommittee, said that the exam has changed over the years but remains the most difficult culinary certification exam in the nation.
"This is the most difficult and comprehensive certification that exists for chefs in the United States," Arnone said. "This isn't a test that a Certified Executive Chef can wake up and say, "I'm interested in taking it."
The American Culinary Federation, the largest professional chef's organization in the country, includes more than 20,000 chefs and cooks in more than 200 chapters throughout North America.
Recher said it is impossible to prepare specifically for the Certified Master Chef Exam, but instead, it is something he has been working toward his career-long process of bettering himself as a chef.
"It has been a number of years," Recher said. "Through competitions, I have met Master Chefs who have been mentors. I would start talking to them years ago, getting information, going through the program online. Actively over the past year, it has been a lot more focused, but it's always been something I have been researching and looking into. There is no way that you can just study and pass the test. A Certified Master Chef has to have certain technique and knowledge of cuisine and the AFC is trying to validate this."
The 2014 candidates are looking to join the ranks of just 67 other Certified Master Chefs in the United States. These chefs have come from a variety of cooking backgrounds – culinary school, apprenticeship, and even self-teaching. Recher said he is the product of many great chefs who took a chance on him throughout his decades in the kitchen.
Recher began working at a restaurant while studying business at the University of Iowa, when he learned that he wanted to pursue the culinary experience.
"I wasn't one of those kids growing up cooking with his grandmother," Recher said. "I was a suburban kid in Chicago whose mother made casseroles. I was in high school, college studying business. And I got a job to make some extra money in a local restaurant and bar. It was like being on a team again. I liked the social aspect of it. It wasn't a desk job."
His love of the restaurant business led him to move to Boston, where he took his first role in the kitchen.
"I worked at TGI Friday's, where they asked if I knew how to cook," Recher said. "I must have made a thousand burgers. I learned how to survive in a kitchen, learned how to be consistent and fast, and how to work with other people."
From there, he worked in the kitchen of the Reston Hyatt as one of the chef's apprentices. He then became the assistant chef at the Market Street Bar and Grill next door.
In 20-plus years since his apprenticeship in Reston, he has worked in restaurants and hotels up and down the Eastern seaboard, gleaning lessons and perfecting techniques from a multitude of accomplished chefs.
His return to the D.C. Metropolitan area was to help open the Doyle Washington in Dupont Circle. As the executive chef working with the food and beverage director, he learned how to work around the clock, creating breakfast, lunch and dinner for hundreds of hotel guests every day.
Recher's first competition was an ACF gumbo competition in Annapolis, Md., which is how he first became involved with the ACF.
"There was a gumbo cookoff going on in Annapolis, and it was only open to chefs in ACFs, and my job paid for me to join it," Recher said. "I was a restaurant guy. I thought it was mainly for teachers and club chefs, but I found opportunity for everyone. Then a year later they held their national convention, where I was surrounded what seemed like thousands of chefs in white coats. I met some amazing people and learned so much in one day that I really got excited about the AFC and what it could offer me."
Recher, who is already an ACF Certified Executive Chef, is on his way to achieving CMC status at the end of this month. While he has no intention of leaving his current job, Recher said the title of Certified Master Chef is a huge personal goal.
"I love being a chef at the Army Navy Club, so it's not going to change that, but for me to be involved in this is a personal goal," Recher said. "Being a chef is not just a job for us, it's a life. It is a personal sense of accomplishment that I have been working on since I was 20 years old."
It has already been a busy year for Recher without a grueling, all hands-on eight-day exam in Los Angeles. He has already watched the Army Navy Country Club earn a spot on the Platinum Clubs of America 2014 list, a sought-after status for country clubs around the nation.

"I've been over there just over a year," Recher said. "When I was brought on, they just build a brand new club house. There are six restaurants and five kitchens; it's a huge place. I was brought in there to help invent the culinary program for the new club house. We are now ranked 91st in the country, and the top 4 percent of clubs. It has been a tremendous experience."
Recher said he has learned so much from other ACF certified chefs over the years through a multitude of classes he has taken and competitions he has entered. Nowadays, he spends much time teaching other chefs in his kitchen as well. He said that while he is of course nervous, he is honored to be part of such a great network and its prestigious certification process, which at the end of the day prioritizes food over frills.
"It's such a gamut we all will be tested on," Recher said. "That's something I like about ACF and the certified chef programs. It recognizes that food is food."
One of the chefs that Recher has hailed as an inspiration during his career thus far has been Arnone. The two have been acquainted for roughly eight years, having met when Recher was president of a local AFC chapter.
"I was invited to come judge a competition," Recher said. "We stayed in touch afterward. As the Certified Master Chef, I feel it's important to keep mentoring chefs interested in the pursuit of this goal, or any level of certification. That's most of our community. We try to help coach and identify a chef's paths of success."
Arnone said that even without the CMC credentials, Recher demonstrates the ideal qualities of an AFC chef.
"He is incredibly passionate about food and the process of continuing to learn and grow," Arnone said. "He is always giving back. He is a true professional and a great representative of chefs in our industry."