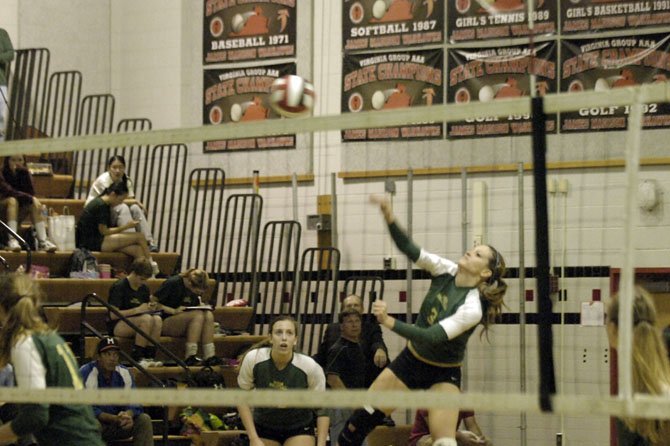 Rachel Andrejev was supposed to spend her senior season as part of a 1-2 offensive punch on the defending state champion Langley volleyball team.
But after all-state outside hitter Jessica Donaldson was lost for the season with a knee injury on Aug. 30, Andrejev was left to carry the load for the inexperienced Saxons.
Andrejev has been a constant during Langley's up-and-down season, which has included a seven-match winning streak and a four-match losing streak. On Oct. 16, No. 3's leadership was on display again as the Saxons faced one of their toughest tests to date.
After dropping the first set to undefeated Madison, Andrejev guided Langley to a second-set victory with eight kills and an ace. The pivotal third set went down to the wire, with Andrejev helping the Saxons keep pace with five kills and an ace. Madison, however, proved too much, as the Warhawks captured the third set and eventually the match, 3-1 (25-15, 23-25, 28-26, 25-20).
Andrejev finished with 17 kills and three aces while battling a knee injury.
"Rach is facing surgery at the end of the season on her knee," Langley head coach Susan Shifflett wrote in an email. "This, along with having to carry much of the workload due to Jess' injury, has placed an enormous amount of responsibility on her shoulders. She has responded beyond my highest expectations. I am so impressed with her determination and leadership."
What makes Andrejev so good?
"Her attitude," Shifflett wrote. "She plays with such intensity, almost like she is proving every night that she is the best. And she is."
Madison improved its record to 21-0. Langley became just the fourth team this season to win a set against the Warhawks.
Katie Sissler and Allison Franke each had six kills for Langley. Elena Shklyar had five aces.
On Monday, Langley defeated Yorktown 3-0 (25-21, 25-12, 25-14), improving its record to 12-7. While seven losses could be viewed as adversity following a 2013 season during which Langley lost only three times and won a state title, Shifflett said the Saxons' lack of experience makes it a non-issue.
"Considering Rachel is the only returning starter, they don't know any different," Shifflett wrote. "They are young and learning more each day. Each match someone new rises up to make us better."
Langley will close the regular season with road matches against Washington-Lee (Oct. 22) and Fairfax (Oct. 30).