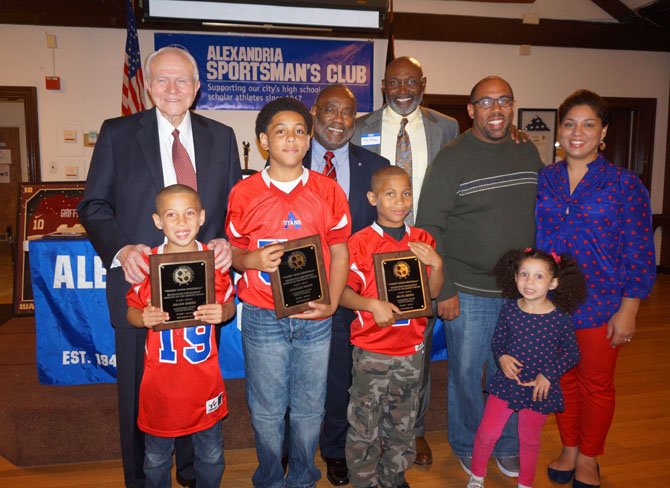 Mayor Bill Euille was on hand to present a key to the city to Washington Redskins Super Bowl champion and Pro Bowl punt returner Mike Nelms as the Alexandria Sportsman's Club held its annual Redskins Night Oct. 21 at the Old Dominion Boat Club.
Photo Gallery
ASC Redskins Night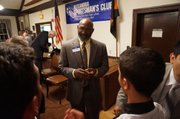 Click Photo for Flash
"Encouragement is everything," said Nelms, who emphasized the irreplaceable role that encouragement plays at all levels of youth and athletic development. "So many kids don't have anyone to blow the wind in their sails."

Prior to sharing his journey of life in the NFL, Nelms helped ASC president Allan Kaupinen present the Student-Athlete of the Month Awards. This month's honorees included the three Youth Titan Football-playing Greer brothers, consisting of Charles Greer (George Washington Middle School), Miles Greer and Julian Greer (both of Douglas MacArthur Elementary School).
Awards for outstanding achievement were also presented to T.C. Williams senior field hockey star Emily Moncure and Bishop Ireton's junior goal-scoring machine Joey Faddoul.
A moment of silence was held for Alexandria residents Grover Payne, Jr., a past president and founding member of the Alexandria Sportsman's Club in 1947 who died Sept. 2, and local legend Jim Parker, co-founder of the Hard Times Café, who died Sept. 6. Both men were remembered as longtime ASC supporters who made instrumental contributions to the city's local youth sports initiatives.
Nelms, a devout Christian, also told the crowd, that while the timing of blessings in life may occasionally feel disappointing, whether in sports or business, to "trust in God's plan for you. His timing is always perfect."
Nelms closed his remarks by acknowledging the role the Sportsman's Club plays in Alexandria.
"Everything that the ASC does is so amazing," he said. "From the awards to giving these scholarships, I appreciate what you do for these kids and I applaud you."
As is the ASC tradition, Hard Times Café donated chili for the Redskins Night banquet following the awards ceremony, and Noel Kaupinen of McEnearney Associates donated the provisions for the social hour. The Alexandria Sportsman's Club will meet again on Tuesday, Nov. 18 for a special commemoration of the Old Oaken Bucket high school rivalry. www.alexandriavasports.org