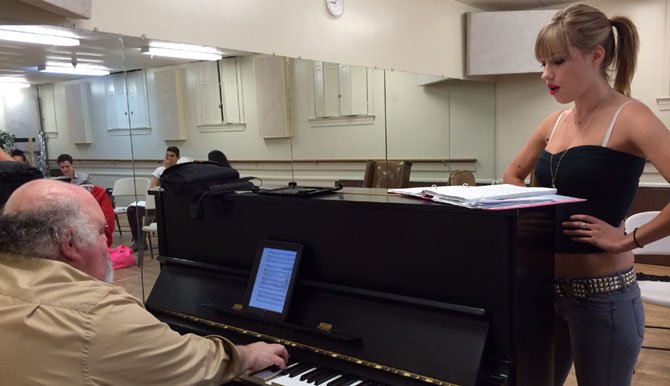 It's time to do the time warp! Just in time for Halloween, the Little Theatre of Alexandria is staging the campy musical, "The Rocky Horror Show," from Oct. 25 through Nov. 15, 2014. The spoof of old-time horror flicks that inspired the 1975 cult film follows an innocent couple, Brad and Janet, as they seek shelter at an old castle on a dark and stormy night. It is there that they meet a mad scientist who has been experimenting with creations of his own.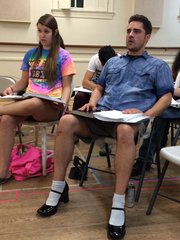 The film version starring Susan Sarandon, Tim Curry and Barry Bostwick is one of the most successful and longest-showing midnight movies of all time (almost 40 consecutive years). It became the Saturday-night show famous for audience participation with patrons dressing in costumes, shouting back dialogue, singing the rock songs, and throwing "props" at the screen.
Director Kristofer Kauff said at its core, "Rocky Horror" is an homage to the B-horror films of the 1940s, '50s and '60s, like "The House of Wax" and "The Creature From the Black Lagoon," among others. One thing that kept popping into his mind was to direct the play in live 3D, he said, following the lead of "movie houses and drive-ins with audiences wearing those 3D glasses, eating popcorn, screaming and laughing at the screen." He added: "Live 3D theatre is not an easy task, and I certainly did not want to pull focus from the actors, music, dancing and story being played on stage."
Finding an arc for the characters on stage was also a challenge, he said. "It's important that actors understand their relationships and why they are doing what they are doing, or the audience will never truly buy in to what is happening in front of them."

Jay A. Cohen, co-producing along with Richard Schwab, said that "Rocky Horror" is a classic that was too tempting for him to pass up. "'Rocky Horror' represents all my old friends going crazy and lining up in drag to see the movie, and now I have a chance to relive it and make it and reclaim some of that craziness," said Cohen.
For those who went to see it in the 1970s and 1980s, Cohen said, "it's a chance to reconnect with those wild and carefree evenings of people getting crazy, and for the 'Rocky Horror virgins,' it is a chance to see what all the fuss was about — and get in touch with that little freak that's inside all of us."
Actor Matt Liptak plays Riff Raff, the slightly unhinged assistant to the mad scientist Dr. Frank N. Furter, who is best known for singing "The Time Warp" song. "The role of Riff Raff, like all the roles in this show, are so iconic, that our main goal has been to find that balance between the film's portrayals and our own staging and style," he said.
As far as challenges, he said the music is pretty much non-stop from start to finish. "On top of the one-song-after-the-other feel, it's all very fast-paced and in-your-face rock music," he said.
He hopes the audience has a good time, regardless of how absurd the whole thing is. "It's twisted, comical, sexual and bizarre but it's also 'Rocky Horror,' and I think if the audience comes in ready for a zany ride, they won't be let down."
Patrick M. Doneghy plays the role of the magnetic Dr. Frank N. Furter, a man of science who comes from another world in search of love — to no avail. "So he has decided to do what any mad scientist would do. He is going to make his perfect mate," he said.
Doneghy said the show is a love letter to old horror movies, and that he would like the audience to see in Frank touches of those old-school B-movie villains and heroes. Above all, he said, "I hope the audience has fun. Lots and lots of fun."
Paige Taylor plays the role of Magenta, an alien who acts as a servant and who has an unusual relationship with her brother. "They feel abused and taken for granted and you see their anger and rebellion grow as the play goes on," she said.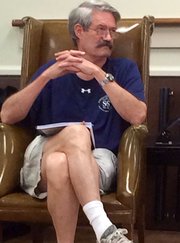 She said the challenge was that "Rocky Horror" is such a cult classic that it was hard to get away from a lot of the same stereotypical ways of playing the characters. "Being a fan of the show myself only fueled me to step away from the original character and allow myself to find my own version of her," she said.
"'Rocky (Horror)' is a ridiculous, sexually-charged freak show but at its core, it's a testament to finding and becoming your true self; free of ridicule, judgment, shame and facades," Taylor said. "I hope that 'Rocky' fans, old and new, will appreciate what our director has dreamt up for this vision…. We promise nothing less than absolute pleasure."
Richard Fiske plays the narrator who is an academic studying and explaining these strange people and their unconventional customs. He said, "This ain't Shakespeare. We want to get the Alexandria audience's canes a-tappin', to suspend disbelief (and judgment, better and otherwise), cast decades aside, throw the top down and careen down a dirt road toward the creepy castle in the moonlight."

Because LTA is producing a live performance, however, the audience is asked to limit their participation. The following "props" will not be allowed: water pistols, candles, rice, lighters, matches, noisemakers, confetti, toilet paper, toast, cards, hot dogs, and prunes. One public performance — the midnight show on Friday, Oct. 31 — has been designated a "participation performance." Audience members at this performance are encouraged to bring newspapers, flashlights, rubber gloves, and bells. Dressing up for any performance is encouraged, as long as the costume is appropriate and does not block sight lines of other patrons.
The Little Theatre of Alexandria is staging "The Rocky Horror Show" from Oct. 25 through Nov. 15, 2014. The show runs Wednesdays through Saturdays at 8 p.m.; with Sunday matinees at 3 p.m. There is a midnight show on Halloween, Friday, Oct. 31. Tickets are $25-$30. The venue is at 600 Wolfe Street, Alexandria. Call the box office at 703-683-0496 or visit www.thelittletheatre.com.