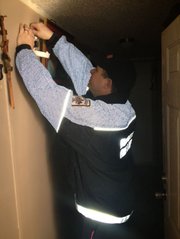 Fairfax County firefighters have been making more house calls than usual. And it's paying off.
In the case of a basement fire in the early morning of Oct. 13 at a house on Remington Drive in Alexandria, they might not have gotten the call until it was too late if it weren't for the fire department's Safety In Our Community (SOIC) outreach program.
Every Saturday, three seasons a year, on-duty firefighters from each of the county's 38 stations spend several hours going door to door in their "first due" response zones. They offer safety tips like best practices for candles and fireplaces, as well as check that smoke alarms are installed and powered properly.
When firefighters visited the Remington Drive house the first time, the alarm was out of order, so they replaced it.
Because the alarm went off successfully, residents were able to get out of the house before the fire spread from the basement, and called 9-1-1. Within five minutes, Woodlawn units from Station 24 were the first on the scene. Firefighters were able to contain the blaze to the basement.
This was the fifth documented case of a fire where SOIC had previously replaced a faulty alarm.
Damage to the house totaled $30,000 damage, according to Fairfax County Fire and Rescue spokesman Dan Schmidt. But, he said, "it could've been greater, with injury or death even."
"You can put all the PSAs out in the world," said Springfield Supervisor Pat Herrity, "but when you get a knock on the door and a firefighter offers to do a home inspection, that's when you're going to listen and pay attention."
Since SOIC, the brainchild of Fire Chief Richard Bowers, started in June 2013, his troops have had to repair or install smoke alarms in 55 percent of the houses they visit. They replace a lot of batteries too.
"A lot of people will take a battery out because they need a battery, and won't replace it," said Schmidt, a spokesman for the Fairfax County Fire and Rescue department. "It's amazing how often you see it."
The replacement alarms had previously been purchased with funds donated from local businesses, but the fire department recently secured a $130,000 grant from FEMA to distribute alarms with ten-year lithium ion batteries that are virtually untamperable.