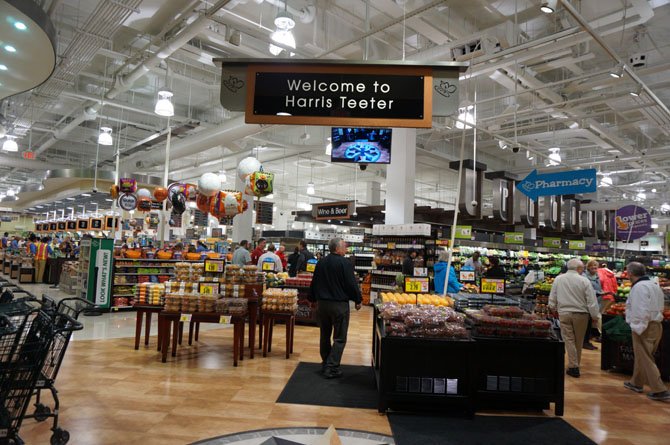 Deborah Henderson stood for hours cheerfully answering questions and directing shoppers to the proper aisles as hundreds of residents turned out for the "Taste of Teeter" night Oct. 21 to celebrate the long-awaited opening of Old Town's Harris Teeter grocery store.
Photo Gallery
Harris Teeter Opens in Old Town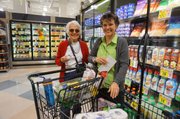 Click Photo for Flash
"I'm customer service friendly all the time," said Henderson, a cashier at Alexandria's newest grocery store. "If anyone ever has a problem, all they have to do is ask for me."
Henderson is a full-time employee at the store located at the southeast corner of Madison and North St. Asaph streets.
"What an amazing store," said former Alexandria mayor and state senator Patsy Ticer. "I had no idea we could fit something so big in little ole' Old Town. This is very much a benefit to the community."
Located across from the Royal Restaurant, the 52,302 square-foot store features a pharmacy, prepared meals, salad bar, seafood and deli counter and outdoor dining. Two levels of underground parking are located below the store with escalator and elevator access to the shopping level.
"The entire store is phenomenal," said store director Sharon Rodriguez. "This will be a great gathering place."
McEnearney Realtor and Old Town resident Annette Hinaman agrees.
"We've always been shortchanged when it comes to supermarkets in Old Town," Hinaman said. "Other places have stores like Wegman's but not us. Finally there is a store that will have my business."
Featuring eight checkouts lanes and six USCAN checkouts, the Old Town location marks the second Harris Teeter in Alexandria and the 45th in Virginia. Like the Harris Teeter in the Foxchase Shopping Center in the West End, the Old Town location is open 24 hours. Pharmacy hours are 9 a.m. to 9 p.m. Monday through Friday, 9 a.m. to 7 p.m. on Saturdays and noon to 6 p.m. on Sundays.
"I'm impressed by how beautiful and clean the store is," said neighborhood resident Angela Ripp. "It is not cramped at all. It is good to see this much space in Old Town."
The site of the newest Harris Teeter is an assemblage of five parcels that were mostly empty buildings and vacant lots. In addition to creating 150 permanent workforce jobs, the store will generate millions of dollars in additional tax revenue for the city.
"The support from the community has been tremendous," said Theo Androus, a native Alexandrian as well as a partner in the project. "It was a long time coming but it's exciting to finally welcome Harris Teeter to Old Town."