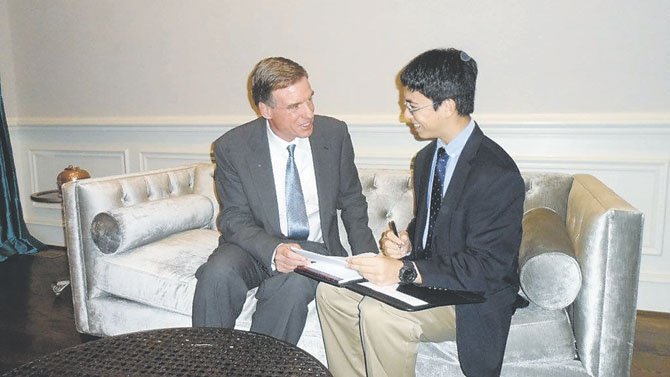 On Sept. 21 Senator Mark Warner (D-Virginia), who is running for re-election on Nov. 4, was interviewed by William Mullen, 15, a sophomore at St. Albans School in Washington D.C. who lives in Great Falls. Here is a short excerpt from the interview:
Q: Members of my generation are faced with the prospect of starting life with a sizeable burden of debt from funding their education. How would you solve the student debt crisis?
A: This is a really good question.
I've met with students at nearly a dozen Virginia college and university campuses in recent weeks to talk about college affordability issues facing your generation. At each school and at nearly every other stop on the campaign trail, I hear about the burden of student debt. As the first in my family to graduate from college, I graduated with about $15,000 in student loan debt, but today's graduates commonly face $30,000 or more in student loan debt. Had I incurred that much debt, I am not sure I would have taken the chance to start my own business.
That's why I have introduced specific proposals that would help borrowers pay down their loans. These ideas include capping loan repayment obligations at 10 percent of your income, providing employers with the option to offer $5,000 pre-tax to help employees pay off their student debts, and making the costs and benefits of college much more transparent as students and their parents consider their higher education options. I believe these will go a long way towards helping younger Virginians manage their student loan debt.
In America, nobody should go broke just because they go to college.