Reston South Lakes senior Samantha Gifford was recognized by the U.S. Army for her selection to the 2015 U.S. Army All-American Marching Band on Friday, Oct. 24. The selection ceremony was held in the theater at South Lakes High School (SLHS) in Reston. Attending the ceremony were faculty members and Del. Ken Plum (D-36).
Gifford joins the top 125 high school senior marching musicians and color guard members from across the country, showcasing their talents during the largest celebration of high school football in America, the U.S. Army All-American Bowl, to be televised live on NBC on Saturday, Jan. 3, 2015 from the Alamodome in San Antonio, Texas. "We are incredibly proud of Samantha," said South Lakes Principal Kim Retzer. "She is a terrific young lady and we are so glad she is being recognized for her dedication and talent. We are honored to have Samantha represent South Lakes in the U.S. Army All-American Marching Band."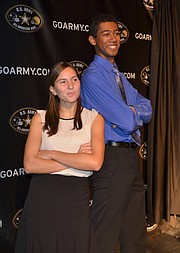 Glifford has attended numerous honor bands, and is a member of the SLHS Wind Ensemble, Jazz Band, Marching Band and Northern Virginia Youth Wind Ensemble. "I am extremely proud of Samantha's selection to the U.S. Army All-American Marching Band," said Grayson Fore, director of bands at South Lakes High School. "Samantha is a tremendous musician and leader. She has worked extremely hard to develop her skill and earn her position as an All-American. Samantha is a delight to work with and a positive influence on our school… She is the type of kid every teacher wants in their class and that every parent wishes their daughter could become."
Joining the 2015 U.S. Army All-Americans will be other Fairfax County Public School students including West Potomac High School piccolo player Erika Larsen, Thomas Jefferson High School for Science and Technology marching band members Noemi Glaeser and Theo Richardson, and Fairfax High School sousaphone player Dylan Cate.
"I was thrilled to have Noemi and Theo announced as Army All-American Marching Band members this year," stated Thomas Jefferson High School Band Director Adam Foreman. "They are two of the hardest working members of my band, and they always put the group before themselves. They spent countless hours helping out the younger members and truly are exceptional examples of what it means to be a strong leader. They are both wonderful young people and musicians, and will no doubt enjoy the opportunity to make music with the other selected members from across the country."
On Saturday, Nov. 1, South Lakes High School will host the Virginia Band and Orchestra Director's (VBODA) State Marching Band Assessment, North Section. There will be a total of 18 marching bands from across Northern Virginia competing. The VBODA band competitions serve as the Standards of Learning (SOL) assessments for bands. At this competition, there will also be band members participating from South Lakes High School, Chantilly High School and Dominion High School who were selected to the elite U.S. Army All-American Marching Band.