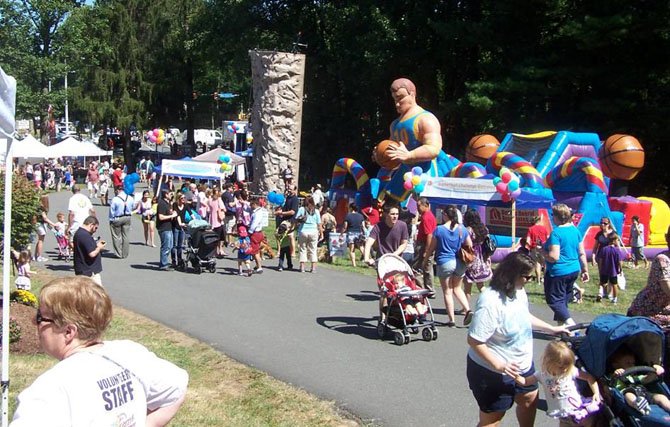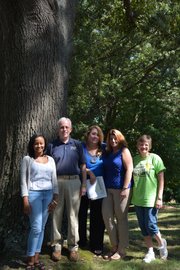 Burke Centre Festival coordinator Jeannie Winslow is downright calm when estimating attendance this year. "Police guestimate we had 10,000 over the whole weekend last year," she said. "Maybe we'll get a few thousand more."
Since it started at the Burke Ponds community centre almost four decades ago, the Burke Centre Festival has steadily grown in popularity -- first around Burke, and then into neighboring areas of Northern Virginia, and eventually Maryland.
They all come for two September days of carnival rides, food, face-painting, live music, pony rides -- you name it, it's probably at the festival.
Admission is free, though rides can range from $1 to $3 per go around. With the help of local business sponsors, the festival organizers have been able to keep those costs the same for the last 10 years.
"You could come here and not spend any money and still have a great day," said Winslow. "That's what the community's about. It's not a money-maker." Though at a cost of roughly $50,000 to put on, breaking even is a great success.
"It's pretty much a wash," said Brian Engler, Landings Trustee and liaison to BCF from Burke Centre board of trustees. "It's a fun event that ultimately pays for itself." With the help of sponsors and vendors, which buy table space at the event.
David R Hughes Orthodontics sponsors face-painting, which is done by Picasso Facepainting and Sunrise Facepainting. "They do really high quality work and it looks fantastic," said Winslow. "I have fun with that personally."
Managing the increasing crowds has been a challenge for Winslow and her team. To alleviate parking around the Burke Centre Conservancy -- home of the festival since the 1990s -- they've developed a shuttle route with stops around the Burke Centre neighborhoods (except for the Woods and Commons).
They also expect a volunteer corps of about 90 community members to help manage the sheer number of visitors.
Another chronic issue is long lines for the free activities. The staff's solution? More activities. Some of Winslow's favorites that are new for this year include hair-painting ("That's the new hot thing, we're told."), an open-air photo booth complete with feather boas and silly hats, and free massages offered by the Massage Envy Burke location. Yes: free massages, all day, both days of the festival.
TO HELP NAVIGATE the activities, craft tables and packed performance schedule, Winslow and company will have a pocket guidebook available.
Live performance is another staple of the festival. "What's great is the diverse entertainment," said Michelle Kingham of Stafford, Community Services. "There's drumming, Japanese dancers, local dance groups, bands, Irish dancers."
"We're on a reggae kick right now," said Winslow, referring to Trinidadian artist Sam'O & the JFC, who performs Saturday at 3:15 p.m.
One thing that festival-goers shouldn't expect to change is the strong sense of community that Winslow and company say is an inherent part of the festival.
"Being a part of it and watching it all come together, that's my favorite," said Kingham. "I enjoy seeing everybody smiling and having a good time."
THE BURKE CENTRE FESTIVAL runs Saturday, Sept. 6 from 9:30 a.m. – 5 p.m. and Sunday, Sept. 7 from 11a.m. – 5 p.m. For more information, visit www.burkecentreweb.com.