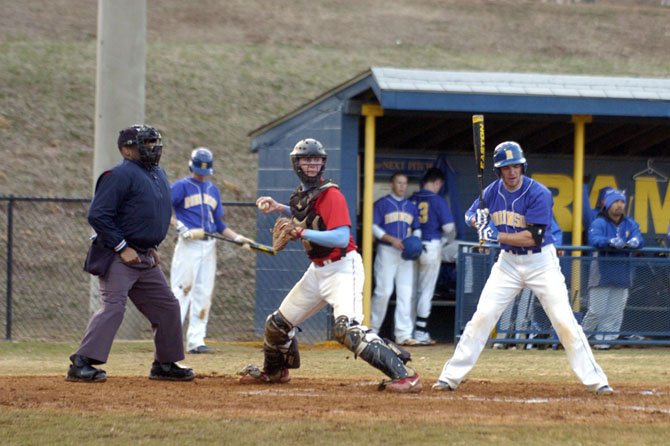 *Editor's note: Mitch Blackstone committed to Cornell University shortly after the The Connection posted the original version of this Q&A.
Marshall catcher Mitch Blackstone had an impressive junior season.
In the spring of 2014, Blackstone helped the Statesmen capture the Conference 13 championship and reach the 5A North region semifinals. The Virginia High School Coaches Association selected Blackstone as the 5A state Player of the Year, to go along with region and conference Player of the Year honors.
As a sophomore, Blackstone received first-team All-Liberty District honors. He batted .444 with six home runs, 14 doubles and 22 RBIs. As a freshman in 2012, Blackstone played with his older brother, Kent, who was a standout shortstop for the Statesmen and went on to play for New Mexico State before transferring to George Mason.
Now a senior, Mitch Blackstone prepares for his fourth season with the Marshall varsity baseball team. On Wednesday, he committed to play for Cornell University.
Blackstone recently participated in Q&A via email with The Connection.
*Connection: What made Cornell the right choice for you?
Blackstone: I loved everything about Cornell both academically and athletically. I felt a good connection with the school, and I believe it best represents me as a person. Also, Cornell's Head Coach Bill Walkenbach is a great person that I could definitely see myself being successful for.
*Connection: Will you remain at catcher or is there a plan to move you to a different position?
Blackstone: At the moment, the plan for me is to play either catcher, first base, or center field. Depending on what the team looks like freshman year will most likely determine where I will be playing. For me, it does not matter where I play; I would just like to get on the field as early as I can so that I can help my team win.
*Connection: Your older brother, Kent, played at Marshall High School before playing Division I baseball at New Mexico State. Has he helped you with the recruiting process?
Blackstone: He has now transferred to play at George Mason University, and he has been a huge supporter in my college recruitment process and has been a big help considering he had to go through the same process.
*Connection: At what age did you start playing baseball? Have you always been a catcher?
Blackstone: I began playing when I was around 2 years old, and I have always had catcher as my primary position.
*Connection: You're a senior, correct? How do you feel about your game now compared to when you were a freshman?
Blackstone: I am a senior now, and I feel that my game has been accelerated an incredible amount since beginning at Marshall in 2012. I felt like I have picked up a large amount of information about the game in the past three years.
*Connection: How much time do you spend working on your baseball skills in the offseason?
Blackstone: On average, I would say I train my baseball skills usually around 20-25 hours per week during the fall and winter.
*Connection: What is your favorite baseball moment from your first three years at Marshall?
Blackstone: I have two favorite moments at Marshall. First, is taking throw-downs with my brother Kent at every practice and in-between every inning in games freshman year, and the other is hitting the game-winning HR off Edison in the conference championship this past spring to win the Conference 13 title.
*Connection: What is your favorite food?
Blackstone: Settler beans.
*Connection: Who is your favorite music artist? Why?
Blackstone: Metallica, because their songs always get my adrenaline going before games and during workouts.
*Connection: What is your favorite movie? Why?
Blackstone: "The Dark Knight," because I am a huge Batman fan.
*Connection: What is your favorite hobby outside of baseball?
Blackstone: Exercising.
*Connection: What location is the farthest you have traveled from the Washington, D.C. metro area?
Blackstone: Edinburgh, Scotland.
*Connection: Are you a pro sports fan? If so, who are your favorite teams?
Blackstone: Yes, the Texas Rangers.