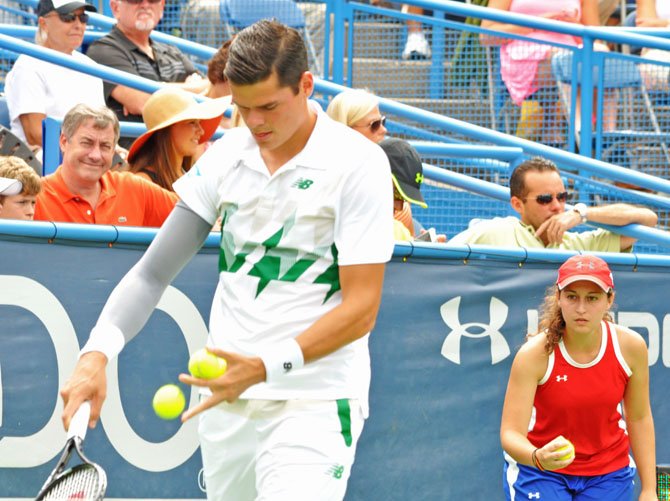 Ever wonder what it takes to be a ball kid at one of the major tennis tournaments?
Two students from Fairfax, Mitch Lawhorn and Nikki Furst, had the opportunity to be ball kids for the CitiOpen tennis tournament in Washington, D.C. this year.
"During play we're responsible for the balls," explained Nikki Furst, a University of Virginia student hoping to attend veterinary school. She described the main responsibility: "Don't hold up play in between points, between serves." Other duties include bringing towels and drinks to the players during the matches. Who shades them from the hot sun? "We also hold the umbrella," answered Furst.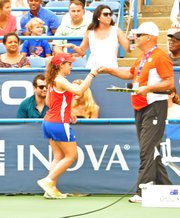 The ball kids also get to be close to their tennis idols. "I liked being on court with Sam Groth [from Australia]. Also Tursunov and Monfils--he's really fun."
It might surprise you to know that many of the famous tennis stars were also ball boys and girls as kids. Professional ATP player Juan Martin Del Potro even praised them at the ATP World Tour Finals last year, saying "they are so fast, they are so good, they make our job very easy," according to TennisWorldUSA. The great Roger Federer was once a ball boy in Basel. But there's also Rolling Stone rocker Keith Richards who was a ball boy at a tennis club when he was younger.
The first ball boy was used at Wimbledon in 1920. Since then they have been a regular fixture on the tennis scene for professional tennis tournaments. The ball kids stationed in the back corners "feed" the balls to the professional tennis players and towels and in addition the ones stationed on the sides of the net, retrieve the "dead" balls. There are ball kids near the resting benches for the players who also deliver drinks and shade the players from the blaring sun.
"It takes up my life for a week. I made some of my best friends ball kidding at CitiOpen. We stay at each other's houses and spend all day together," said Furst.
But it can also have its challenging moments as well. Furst recalled a match when her hat fell off during a very intense game where Petra Kvitova was playing. It happened during a 10-miniute ad game while trying to retrieve a ball. "My friends noticed and made fun of me," she explained.
But it was all part of the experience. "It was so much fun. I already miss it," she concluded. She was on court for one-hour shifts, but spent her spare time walking around and getting signatures from and photographs with many of the top players.
"CitiOpen is the best week of the year. I can't stop talking about it," said Furst.