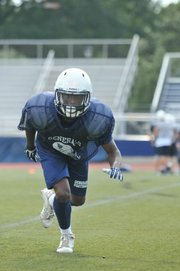 Senior running back/defensive back Daquay Harris enters his third year as a member of the Washington-Lee varsity football team. As a sophomore, Harris received second-team All-National District honors as a cornerback. As a junior, he was a second-team All-Conference 6 selection as a running back and a cornerback.
In 2013, Harris rushed for 1,196 yards and nine touchdowns, helping the Generals finish 8-3 and earn their first district championship since 1975. He ran for more than 200 yards against rival Yorktown in the regular-season finale, helping the Generals secure a 10-0 victory — only the second time a W-L team defeated Yorktown since 1982 — and the district title.
Harris plans to play football in college, but has yet to commit to a school. He recently participated in a Q&A.
Q: At what age did you start playing football? Have you always been a running back/defensive back?
Harris: I started playing football when I was about 9 years old. I played youth football for the Lee Franconia Wolverines. I played as a linebacker and later on started on both sides of the football as I started playing running back my second-to-last year of playing youth football.
Q: You're listed at 5 feet 10, 165 pounds. Is that accurate? How do you survive as a smaller running back?
Harris: I am 5 feet 9, 155 pounds. I haven't had a hard time surviving as a smaller running back because I'm a lot tougher, stronger, faster and smarter than most opponents think. I may only be 155 pounds but just because someone is 30 pounds heavier than me doesn't mean they will end up tackling me at the end of the play.
Q: You're a senior. How do you feel about your game now compared to when you were younger?
Harris: I feel a lot better in most of my fundamental skills than from when I was younger, which helped me become better in my other skills, as well.
Q: How much time do you spend working on your football skills in the offseason?
Harris: I spent most of my time last year in the weight room or with my team playing in 7-on-7 passing league games and tournaments (if I wasn't working). If I wasn't working with the team to get better I'd hear about it from my coach the next time I saw him.
Q: Do you prefer playing offense or defense?
Harris: I love playing offense, but defense has always been my favorite to play ever since I started playing football.
Q: Do you play any other sports at W-L?
Harris: I also [compete in] indoor and outdoor track here at W-L.
Q: What is your favorite football moment from your first three years at Washington-Lee?
Harris: My favorite football moment here at W-L was scoring a 10-yard touchdown in the last second of the game against Hayfield. After scoring, I turned around and saw the whole sideline go crazy with joy. I just really loved that moment.
Q: What is your favorite food?
Harris: My favorite thing to eat is baby back ribs.
Q: Who is your favorite music artist? Why?
Harris: My favorite music [group] is the rap group Migos, because their flow is amazing just like the beats that they rap to. Migos, along with other rap artists like Chief Keef, get me very hyped before games.
Q: What is your favorite movie? Why?
Harris: My favorite movie is "Bad Boys II." I just loved that movie. It was great! It's action packed, mixed with some humorous moments in the film that made me love it. I watch it whenever it's on TV.
Q: What location is the farthest you have traveled from the Washington, D.C. metro area?
Harris: The farthest I have travelled from the D.C. Metro area was Nashville, Tenn.
Q: Are you a pro sports fan? If so, who are your favorite teams?
Harris: I love pro sports. My favorite teams are the Washington Redskins and the Washington Wizards (I don't watch baseball, hockey, or soccer).
Q: Do you have a favorite pro athlete(s)?
Harris: My favorite pro Athlete is Adrian Peterson.