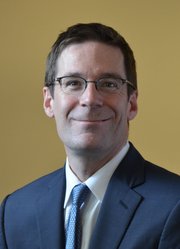 On Sunday, Sept. 7, the new senior minister, the Rev. Aaron B. McEmry, will deliver his first sermon at the Unitarian Universalist Church of Arlington located at 4444 Arlington Blvd. Services are at 9:15 a.m. and 11:15 a.m.
McEmry is passionate about his new position and working with the congregation. He describes it as "online dating with 800 people ranging in ages from newborns to 100 year olds over a 9-month period."
Prior to speaking with McEmry, UUCA's search committee spoke with elders in the Unitarian Universalist denomination and asked if they could form a short list of ministers who would be the best fit for their congregation.
In each conversation, they kept hearing about the senior minister from Unitarian Society of Santa Barbara, Calif.
So after a 2-year search, the committee decided to give McEmry a call.
McEmry spent nearly 9 months speaking with the entire 800-member congregation in group settings to figure out their biggest hopes, fears and dreams.
He believes that "the most powerful journeys are the ones we walk together."
"For me, what success really looks like is unlocking the dreams and goals of the whole community. I am the vision carrier in this and I need to lead these people. … So a lot of what I'm focusing on this year is on figuring out how to surface those things in the congregation," he said.
The first part of this vision includes the need to become "a congregation of circles instead of a congregation of rows."
Even though the church has 800 members, McEmry wants to develop ways for each one of those 800 members to find a way into a small circle where intimacy and depth as possible.
"We may end up sitting in rows still on Sunday mornings, but the way we are together is going to be tons and tons of overlapping circles of relationship. So that we can make this big church feel genuinely small and intimate in some ways," he said.
Secondly, he hopes to lead the Unitarian Universalist Church of Arlington into becoming a "church without walls" where there is less and less distinction between who the congregation is and what they do inside and outside the church walls.
"A key piece of this vision is learning how to take down the 'walls' that separate us," he said.
Community outreach is another key part of his vision. He realizes that this will be a difficult task because he has moved to the area from Santa Barbara, Calif.
"You never realize how much work goes into building these relationships until you have to start all over again. But I'm going to be really intentional about putting myself in situations where I will be able to work with a lot of different community leaders and communities," he said.
Besides working with community leaders to accomplish goals, he also wants to build partnerships with his congregation and the larger community by finding areas of common ground.

Another way of breaking down barriers and establishing partnerships is "just showing up." McEmry is committed to making sure that when "important things happen in the community" he is present along with his congregation. "Initially, I will have to make a lot of calls and just introduce myself around the community and ask a people out for coffee or something to get to know them."
He also believes that Unitarian Universalist Church of Arlington's proximity to the nation's capital provides them with a "unique opportunity" to make a positive impact on their community and the nation.
The only challenge he foresees is figuring out how to harness all of the love, vision, talent and energy within UUCA's congregation so that it can do its most powerful work.
"We already have a congregation where Buddhists and Christians are sitting next to Muslims, Hindus and atheists … and so we already have this unbelievable rich diversity. But sometimes we don't know how be brave enough to open ourselves wider," he said.
A part of accomplishing this is moving from tolerance of the differences between individuals toward pluralism which is where individuals move past dealing with each other's differences to where we feel lucky "… to be in a circle with people who are different than me in so many important ways."
His greatest joys as a minister is being able to follow the members of his congregation through the different stages of their lives.

When a child is born, he gets to pour water on their head. And if that child decides to get married, then he performs the marriage and gets to hug them at their wedding. And when they die he will bury them and offer comfort to their family.

Prior to entering the ministry, McEmry worked as a community organizer, an experience he draws heavily from in his current position. He has worked as a council representative to the AFL-CIO and grass-roots activist for the Oregon State Public Interest Group in Oregon, he had to learn to work with every kind of person from environmentalist to businesspersons to monks.
The Wisconsin-raised minister feels that he did not choose the ministry but rather matured into the ministry. He feels that every position prior has been a driving force in preparing him for the ministry. As a child, he recognized the unfairness in the world and his role in changing it.
"I just love people. I think people are the most beautiful, crazy making, inspiring, irritating things in the world. They are full of endless surprises and possibility and also really fragile. I have the good fortune to be invited in to the most sacred parts of life. That is an unbelievable honor," he said.
During his downtime, McEmry enjoys biking, archery and backpacking through the mountains. He has a master of divinity from the Meadville Lombard Theological Seminary and a bachelor of science in labor studies from the National Labor College. He lives with his wife Eliza and 3-year-old son, Luke, in Arlington.