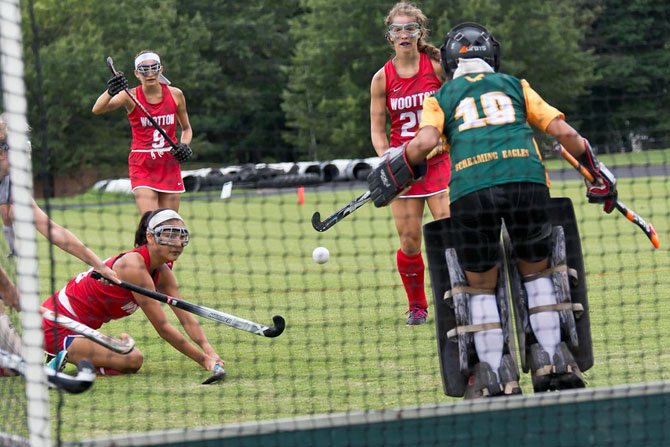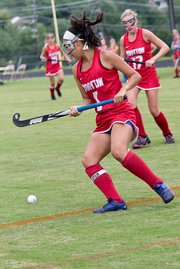 It took less than two minutes for Wootton senior Julia Lee to score a goal during Monday's contest against Seneca Valley. Teammate Lacey Rubin scored minutes later before Lee added her second goal. With 16:48 left in the first half, junior midfielder Marisa Morakis fired a rocket into the cage, giving the Patriots a 4-0 lead before Seneca Valley called a timeout.
It would only get worse for the Screaming Eagles.
The Wootton field hockey team defeated Seneca Valley 12-0 on Sept. 8, three days after the Patriots opened the season with a 10-0 win over Damascus. Wootton, which reached the MPSSAA 4A state championship game in 2013 before suffering its only loss of the season, enters the 2014 campaign with a strong core of talent and aspirations of returning to the state tournament.
Head coach Kearney Blandamer doesn't want to dwell on the past, but she acknowledged there are aspects of reaching last year's state final that can benefit this year's team.
"It's a tricky [thing] to reflect on the past but try to be your own team," Blandamer said. "Last year's whole journey was eye opening for the kids. … The best part about last year was that those jitters are over. Now, we know what it feels like to drive over the Bay Bridge at 7 a.m. on the day to play for that state championship and look at the water sparkling and be nervous about what lies ahead."
After beating Bethesda-Chevy Chase in the 4A South region championship game and knocking off Dulaney in the state semifinals, Wootton traveled to Washington College in Chestertown to face Severna Park in the state final. The Patriots fell short, 4-1, but the experience is valuable.
"Now we know," Morakis said, "that a team from Montgomery County … went all the way to states and now we know we can do that."
Lee and Morakis are Wootton's top offensive threats. Lee, a senior captain and forward, has nine goals in two games for the Patriots, including five against Seneca Valley.
"Julia brings calm and poise to the game," Blandamer said. "In addition to her skill, that's what's most appealing about her. She is someone that they look to on the field to guide them and calm them and lead them."
While Lee brings a sense of calm to the Patriots, Morakis brings the thunder. She's one of the team's most physical players and is the owner of the team's hardest shot.
"Marisa is a different style of player," Blandamer said. "She's very physical, very strong [and] she is so driven to improve herself. She wants to get better every day."
Morakis has six goals in two games, including three against Seneca Valley. She showed off her shot strength against the Screaming Eagles.
"She's not afraid to use it," Blandamer said.
Rubin, a junior forward, scored two goals against Seneca Valley. Senior forward Jordan Stern and junior midfielder Lindsey Capitelli each scored one.
On defense, junior center back Rachel Maizel can use her track speed to make up for Wootton miscues.
"There are times when we're off our game defensively," Blandamer said, "our angles are off and the ball sneaks past, and she covers ground magnificently."
Junior goalkeeper Athena Sardelis and senior defender Mindy Pasternak are also returning starters.
Wootton returns to action on Friday, Sept. 12, when the Patriots travel to face rival Churchill at 5 p.m. Wootton's next home game is Sept. 15 against Rockville.
"I think we're going to be challenged by several programs in the county, just as we were last year," Blandamer said. "We have to maintain mental toughness and confidence and trust each other."
The Patriots are focused on returning to the state tournament.
"We know we have to go," Morakis said.
"It's ingrained in our blood," Lee said.