Jean Stuart Clymer, 90, of Reston, died Tuesday, Aug. 12, 2014. She was born Sept. 21, 1923 in Paisley, Scotland, to Harriet and Stuart MacAulay. She moved to Pennsylvania with her parents, and older brother Thomas, when she was 1 year old. She arrived from Glasgow, Scotland to the Port of New York on Oct. 8, 1924, described as fresh, fair and blue eyed.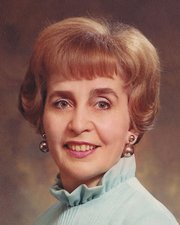 She attended Cheltenham High School and Arcadia University (formerly Beaver College), on a full academic scholarship, where she studied French.
She married Everett S. Clymer, her beloved high school sweetheart in April 1944. They had two children, son Stuart and daughter Sylvia. Following Everett's service in the Navy during World War II, the young family lived in Oreland, Pa. In 1952, they moved to Wallingford, Pa., where they attended the Wallingford Presbyterian Church. They also resided in Turin, Italy from 1969 to 1979.
In 1974, Jean and Everett Clymer moved to Hillview Road in Malvern, Pa., and began attending Paoli Presbyterian Church where they were active in many church programs.
In 1984, they moved to Devon, Pa. Everett Clymer died in 1997, after 53 years of marriage.
Her life-long love of plants and flowers was carried on while she attended a series of courses at the Barnes Foundation's Arboretum School, with participation in gardening groups and the landscaping committee of the homeowner's association at Devonshire. She was also a long-time member of the Daughters of the British Empire.
In 2010, she moved to Tall Oaks Assisted Living in Reston, Va., where she enjoyed the community of people as well as the variety of activities. She was especially proud of gold medals she won in the Tall Oaks Wii Olympics.
Jean Clymer is survived by her son E. Stuart (Isabel Torbert) Clymer of Stratford, Conn.; daughter Sylvia (Jeffrey) Wagner of Vienna, Va.; granddaughter Jean-Louise (Stuart Moll) Card of McLean, Va.; grandson Michael Wagner of Reston, Va.; and numerous nieces, nephews, and cousins.
Interment and a memorial service will be held at Paoli Presbyterian Church in Paoli, Pa., on Sept. 13, 2014 at 10:30 a.m. In lieu of flowers, the family requests that donations be made to Paoli Presbyterian's Mission Fund, 225 S. Valley Road, Paoli, PA 19301.