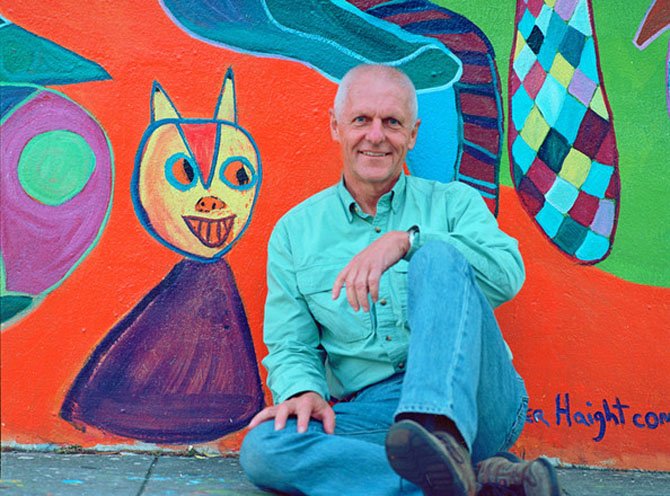 Photographer John Petro's exhibit "Parked Outside the Door" has opened at art gallery ArtSpace Herndon. In the exhibit, Petro explores two fundamental constructs of ingenuity, vehicles and buildings. While traveling America, Petro captured scenes of mobility and permanence.
"Vehicles and buildings," said Petro, "have both enabled and formed the foundation of civilization. In buildings we conduct the business of our lives while our vehicles wait outside the doors, ready to efficiently transport us on to another location, another building. Almost as soon as they made their appearance, these objects went beyond being merely utilitarian. Using his creative nature man has adorned them and made them unique personal extensions of his individuality." With off-beat colors, textures, and randomness, images of the vehicles' make and architecture style are an expression of someone's individuality and life style.
A resident of Maryland, Petro has exhibited throughout the United States. His most recent solo show, Signals in the Noise, was at the Howard County Community College Art Department Gallery, Columbia, Md., in February and March 2014. Two of his photographs were selected to appear in the Maryland Federation of Art juried show "Focal Point: Fine Art and Creative Photography" from May to June 2014.

"I became aware of photography as a serious art form as a teenager in the mid-1960s when I looked through the pages of Life and Look magazines," said Petro. "The photographs, whether of a fashion model, miners exiting a coal mine after a long day's work, or a town in the 'rust belt' undergoing hard times, all grabbed my attention, took hold of me and made me take notice. The images in these and other periodicals of the time had an incredibly profound influence upon me, they compelled me to pause and reflect on the human condition… I pursue this goal not simply to add documentation for the historical record but because I personally find beauty and art in such scenes when they are well composed and captured. I want to inspire in others what those photos in Life inspired in me, to grab their attention, to compel them to stop and take notice, and to reflect on the human condition."
The photo exhibit is on display at ArtSpace Herndon through Oct. 5, 2014. An artist reception is planned for Saturday, Sept. 13, from 7 to 9 p.m.
In other news the Paint Herndon 2014 Painting Competition will be held at ArtSpace Herndon on Saturday, Sept. 20. The cornerstone of the Paint Herndon event is the Painting Competition designed in the spirit of a "day painting" competition and challenges artists to create works of art in a short period of time. The competition is open to all artists. There are three competitive divisions, each with their own cash prizes. ArtSpace Herndon will celebrate its second annual Fall Gala on Saturday, Oct. 18, 7 p.m. to 10 p.m.
For more information about ArtSpace Herndon and upcoming exhibits visit www.artspaceherndon.com.