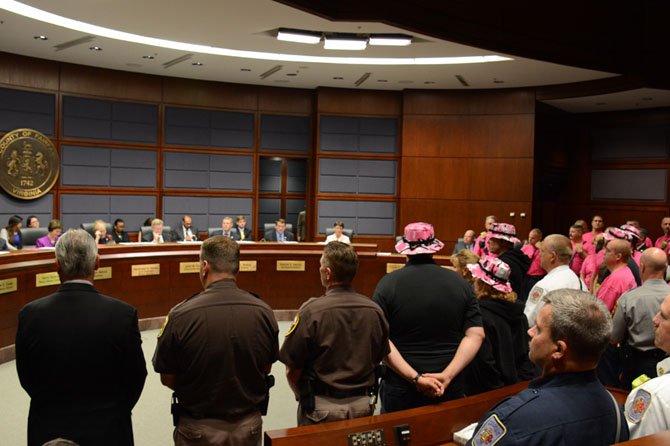 When students at the 142 public elementary schools around Fairfax County stayed there the full day on Monday -- the first time in about four decades -- they likely weren't worried about the cost. That's between the school board and board of supervisors. Grown-up stuff.
On June 26 this year, the school board voted 10-1 in favor of banning early-dismissal Mondays. Then the board of supervisors followed suit at its Sept. 9 meeting, passing the fiscal year 2015 Revised Budget Plan 8-2, that includes continued budget "guidance" from the FY 2014 carry-over that would help "accommodate" the school change into the 2015-2016 school year.
THE COUNTY would offer additional money to the schools to help cover the cost of full-day Mondays for both the 2014-2015 and 2015-2016 school years, as well as tentatively extend a three percent increase in the transfer. Both of which would factor into the next school budget.
Funded by a salary placeholder of $7.6 million (from the school board), with an additional $600,000 (county supplement), the proposal would bankroll the extra class time. The allocations include increasing health services, changes to School Age Child Care (SACC) and projected losses from changes to recreation and nature centers that would lose Monday programming.
Language in the motion caused Providence Supervisor Linda Smyth to question the amount of latitude being given to the school board.
"That $7.6 million is a very round guestimate," said Smyth. "The schools are saying they think it's going to be less than that -- they just don't know how much yet. How long does this go on? Every year are we going to be paying for full-day Mondays again?"
But other supervisors clarified the estimating was a necessary evil and meant as a bridge to reaching the 2015-2016 budget-planning.
"Once we get to next year's budget," said Lee District Supervisor Jeff McKay, "we're going to be weighing this against everything else. This is singularly one of the most important things they could've done."
Sully Supervisor Michael Frey was similarly frustrated with the way the motion reflected on the board itself, with respect to credibility.
"The fact is we are giving the schools more money for an item that wasn't considered important enough to put into their budget request last spring," Frey said. "We're rewarding behavior I think is simply picking and choosing what they think is most popular at the moment."
THE MAJORITY SENTIMENT, however, was that the school board amending its budget request, partially as a result of the excessive snow days last winter, was unique timing, justified and necessary.
"This is guidance at this point in time," said Springfield Supervisor Pat Herrity. "I can support it as guidance. But this is a decision, basically, that increased their structural deficit. We'll have to look at it. It was the right thing to do, I'm happy we did it, but it increased the structural deficit."
Hunter Mill Supervisor Cathy Hudgins echoed the team, role-playing sentiment. She said, "That is the most difficult part for us: We say in one breath that they set their own policy. And we fund it. We're not setting their policy. They're now ready to do it, but it is their process."