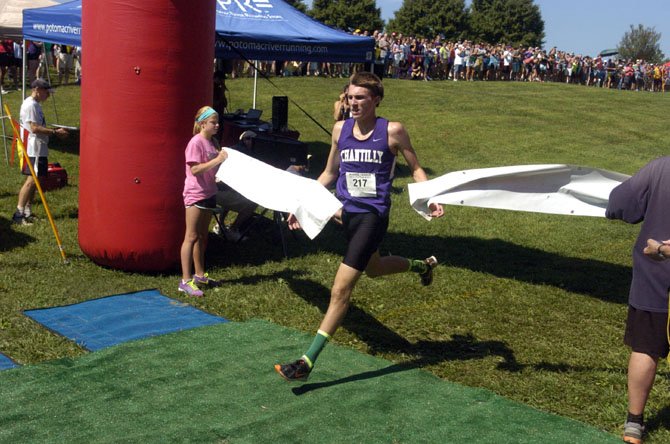 After taking part in some much-needed hydration, Ryan McGorty stood in the sweltering heat and humidity at Burke Lake Park and shared his pre-race concern about the elements.
"I was concerned about the heat," McGorty said, "because this week at practice I've been pushing myself pretty hard and I've been feeling it and almost passing out a couple times."
McGorty did not pass out during Saturday's Monroe Parker Invitational. The Chantilly senior did, however, pass the rest of the field en route to his first victory at the annual event.
McGorty placed first in the boys' varsity race with a time of 15:02, finishing 20 seconds ahead of his nearest competitor. Lake Braddock's Kevin Monogue placed second with a time of 15:24, followed by Bruin teammate Alex Corbett (third, 15:25) and Westfield's Johnny Pace (fourth, 15:41).
"I was very happy about it," said McGorty, a Chantilly team captain.
McGorty's older brother, Stanford sophomore Sean McGorty, won the 2012 VHSL AAA state title and finished runner-up in 2011. Ryan McGorty has been part of two Chantilly team state championships and placed third as an individual in 2013, but was in search of his first invitational victory.
"Fantastic," is how Chantilly head coach Matt Gilchrist described McGorty's performance at Saturday's Monroe Parker Invitational. "We had talked beforehand about what his goals were for the meet. He wanted a big performance to build his own confidence going into the season. He wanted either a fast time or the win and he ended up getting both. He might not admit it, but he's sort of been aching for a win the last couple of years."
The two-time defending state champion Chantilly boys' team placed sixth at Saturday's meet with a score of 231. Lake Braddock won the event with a score of 58, followed by West Springfield (second, 190), Robinson (third, 197), Patriot (fourth, 201) and Thomas Jefferson (fourth, 201).
Sophomore Brandon McGorty, Sean's younger brother, finished 35th with a time of 16:35. Senior Evan Compton finished 55th with a time of 16:59. Senior captain Nicholas Marotta took 64th (17:04) and junior Christopher Wigle was 86th (17:25).
"We've talked about pressure," Gilchrist said. "They realize the last two years have set the bar really high. We don't lower the bar just because we graduate people. They're expected to come in and do the work … and they're supposed to perform, but I'm a realist. …. You can't just take young kids, stick them in varsity spots and assume they're state-quality runners."
The Chantilly girls' team finished ninth, led by senior captain Xaveria Hawvermale, who placed second with a time of 18:10.
"It was the best race she's run in her career," Gilchrist said. "I think she had an awesome summer. Spring track helped build her confidence. … I felt like she had taken a step in terms of her ability to compete."
Chantilly's Christine Murray finished 27th with a time of 19:46. Ana Morris took 58th with a time of 20:36, Hannah Lull finished 71st (20:48) and Bianca San was 76th (21:06).
Madison's Amanda Swaak finished first among individuals with a time of 18:06.
Madison won the team title with a score of 75. Lake Braddock finished runner-up with a score of 99, followed by Patriot (third, 140) and Washington-Lee (fourth, 178).