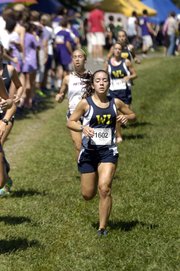 The Washington-Lee girls' cross country team continued its run of strong performances with a fourth-place finish at the Monroe Parker Invitational on Saturday, Sept. 6 at Burke Lake Park.
The Generals concluded the 2013 season with their best finish in program history, placing runner-up at the VHSL 6A state race at Great Meadow. On Saturday, W-L placed fourth at the Monroe Parker Invitational with a score of 178. Madison won the event with a score of 78, followed by Lake Braddock (99) and Patriot (140). The Generals had four harriers finish in the top 25.
"This was our best girls' team finish ever at Monroe Parker," W-L head coach Matt Przydzial wrote in an email. "… We have some girls stepping into new roles in our 5-10 positions and I think by the end of the season, they will be in good position to really help us as a team."
Jordan Grimaldi was the Generals' top finisher, placing 13th with a time of 19 minutes, 19 seconds.
"Jordan Grimaldi ran a very gutsy race in extremely humid conditions," Przydzial wrote. "I feel like she was moving up in the second half of the race, where other girls were suffering from the heat. This year, I think any of our top four could run No. 1 for us on any given day. Hopefully when one of them isn't having the best day, the other three can pick up the slack. All four of them are battle-tested, having been part of some high stakes races in cross country and track and I think it shows in the way they race."
Donia Nichols finished 19th with a time of 19:27, Kathryn Eng came in 23rd (19:29) and Alice Naland finished 113th (21:59).
Eng, Grimaldi, Nichols and Laura Ramirez return from last year's state runner-up team.
"Over the last four years, with some district and conference championships helping us out, we've been steadily increasing our team size," Przydzial wrote. "We have 60 girls running for us this season and the culture on our girls' side has certainly changed from one or two strong runners to a team that takes training seriously beginning in July and expects to be in the top half in a challenging 6A North. Our goal is to take as many girls as possible to the state meet, whether it be a number of individuals or to qualify as a team again."
The W-L boys' team placed eighth.
"The boys finished eighth, which is our best Monroe Parker finish in over a decade," Przydzial wrote. "That being said, our goal is to finish in the top 6 at regionals and make the state meet as a team. So we know we're close, but we have some work to do the next few months."
Christopher Mutty was W-L's top finisher, placing 13th with a time of 16:07.
"We told Chris to focus on place, rather than time since we knew the heat would take a toll on everyone," Przydzial wrote. "We're definitely counting on Chris to be our No. 1 this season after his breakthrough track season last spring — we've made him one of our captains. Hopefully, we've surrounded him with six or seven other guys to make us a team contender, which we've had trouble with on our boys' side the last few years."