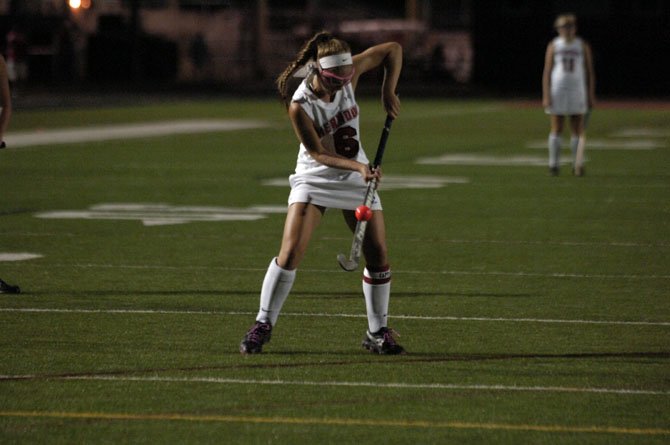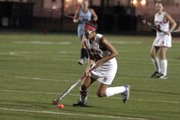 Pressure? What pressure?
The Herndon field hockey team has mowed down its competition during the 2014 season. The Hornets improved to 10-0 on Monday with a 4-0 victory over Centreville. Herndon has outscored opponents 46-3, and scored at least four goals in nine of 10 contests.
In 2012, Mary Miller's first season as Herndon head coach, the Hornets snapped a postseason drought by reaching the region quarterfinals. Last year, Herndon advanced to the region semifinals, falling one victory shy of the state tournament.
This season, Herndon returned a solid nucleus of talent, led by seniors Taylor Stone and Sofia Palacios, and has an opportunity to make another deep postseason run. However, the Hornets aren't allowing themselves to be weighed down by lofty expectations that can accompany past accomplishments or an undefeated record. Players are enjoying their success and carrying it as a point of pride at a school where many teams have struggled in recent seasons.
"Personally, I feel like [having an undefeated record is] definitely spurring us on," Palacios said after Herndon defeated Yorktown on Sept. 11. "We want to keep on going. I personally don't feel tons of pressure. It's something that we can just build on each and every game and we feel better about ourselves each win we get."
Palacios, a forward, is one of three team captains, along with Stone and senior Jamie Wright. Palacios, who is committed to play field hockey at the University of Pennsylvania, leads Herndon in goals (15) and assists (13). She scored a pair of goals during the Hornets' 4-0 win over Yorktown on Sept. 11, a game in which Herndon held a 31-5 advantage in penalty corners.
"Sofia, you can put her up top, she can dribble down and cross it if you need a big cross," Miller said. "She can bring it through the circle and get a shot or get a corner. She's got that great stick work and movement in tight spaces."
Stone, a midfielder who is committed to play at the University of Louisville, has eight goals and 11 assists this season, including two goals and an assist against Centreville on Monday.
"She's a tremendous player, but she's a tremendous team player," Miller said. "She's played on the national team, she plays all the time, she's going to Louisville. The high school game is a little bit different and Herndon, unlike some other programs, is not a big school. We don't have a ton of kids. There are a lot of varying levels on our team and Taylor does a great job of leading [the team], playing with everybody, of bringing everybody's level up. … She's kind of our quarterback."
Wright, a midfielder who is committed to Dickinson College, has five goals and nine assists. Sophomore forward Sammy Stone has eight goals.
"We have quality over quantity as coach likes to say," Taylor Stone said, "because we don't necessary have the biggest team, but we definitely have a solid group out there."
The Hornets field hockey team is one of Herndon High School's more successful athletic programs in recent years. Palacios said teachers and students show support for the team.
"Representing our school so well," Palacios said, "it's definitely a point of pride for us."
Taylor Stone said Herndon fans "actually respect the sport more than they did in the past."
Herndon will travel to face Madison at 7:30 p.m. on Thursday, Sept. 18. Stone said the Hornets still feel like underdogs. The team is trying to stay humble while not assuming success is on the way. However, that isn't stopping Herndon from setting its sights on accomplishing something special.
"[Falling one win shy of last year's state tournament] definitely gives us something to be hungry about," Palacios said. "Going to the state tournament is something that not many people get to do and it's definitely a big thing for our program. We almost got it last year. We were so close. We got a little taste of being successful and being winners, so we definitely want to get the next step."