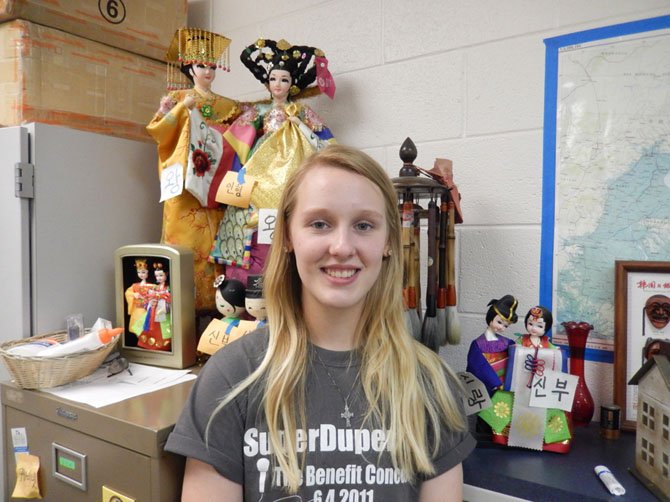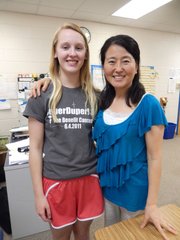 Normally, Serena Gregory would have just begun her last year at Chantilly High, caught up in the excitement of new classes, old friends and the thrill of being a senior. She'd also be playing volleyball, basketball and lacrosse for the Chargers.
Instead, the former Korean-language student at the Fairfax Academy is now in another part of the world, spending the school year in Korea. She was one of just 15 American students selected to study there and live with Korean families. She received a full scholarship from the National Security Language Initiative for Youth, sponsored by the U.S. State Department.
Gregory, 16, left for Korea on Aug. 28; but before she did, both she and her Fairfax Academy teacher, Song Johnston, described their delighted with the teen's good fortune.
"I found out over spring break," said Gregory. "I got an email at the airport going from S.F. to L.A. while doing college visits. I cried tears of joy because this was my second year applying for this scholarship; I didn't get it last year."
"She has an excellent work ethic and was one of the top students in Korean I," said Johnston. "I recommended she skip Korean II because she was learning very fast, so she went to Korean III and IV this past year."
And, said Gregory's Korean teacher, "She did a beautiful job; she paid attention in class, studied at home and was always ready to take tests. But her motivation wasn't just for a grade – she had a genuine interest in learning the language."
"When my brother was a sophomore in high school, his best friend was a Korean exchange student who'd been living with an American family here," said Gregory. "And often, he'd spend weekends and summers at our house. I got to know him well and he taught me about Korean language and culture."
Then, as a Franklin Middle eighth-grader, she made friends with Korean students who taught her to read and write the language. "Even though you're using Hangul characters, Korean is still phonetic," said Gregory. "Compared to Chinese, it's easier, because each Chinese character represents a different word. But in Korean, you can spell out words with the characters, just like we do in English."
So, she said, "I found Korean interesting and unique. My friends also introduced me to Korean music, or K-Pop, which I still listen to. But I didn't start taking formal, language classes until I came to the Fairfax Academy for them every day during my sophomore and junior years."
Gregory said Academy classes are more intensive and the students in them are there "because they really want to learn, so that makes it more enjoyable." Last year, about 90 students total in five classes took Korean at the Academy, learning more than just the language.
"In class we did a lot of cultural activities," said Gregory. "We learned how to make traditional, Korean dishes like Kimbap, served with rice and vegetables and/or meat, and how to do the traditional fan dance. We got to perform at GMU and it was really fun and definitely a cool experience."
The students also learned how to play the buk drums – like an American drum line with a Korean rhythm and music written in Korean. "We learned about the life and culture in Korea," said Gregory. "And we did creative projects, such as drawing our room and explaining its layout in Korean."
For her end-of-the-year project, she translated an American song – Chris Brown's "Next to You" – into Korean and a friend helped her record it to put on You Tube. Then, with the friend singing and Gregory playing guitar, they also performed it together for their peers.
Meanwhile, Johnston told Gregory about the scholarship and suggested she apply. Ten Fairfax Academy students applied, but only Gregory got the prize. During an interview, the scholarship committee asked her why she wanted to go to Korea, why she took Korean and what she planned to do after high school.
"As a junior, I was in the Academy's highest level of Korean, so there was nothing else here for me as a senior," said Gregory. "And I wanted to continue taking the most advanced course I could to get as fluent and proficient as possible."
She also had to write three essays describing herself and her future plans. After graduation, she intends to double major in college in Korean and International Relations. She's considering UCLA, and Johnston approves because of its strong, Korean-language program. Eventually, Gregory wants to become a diplomat or foreign-service officer.
"I'm so proud of her," said Johnston. "I wish more students could have this opportunity. She'll do very well in Korea; I just hope finishing high school won't be that difficult for her in math, science and Korean history."
But Gregory's not worried. "I consider myself an independent person," she said. "I've switched schools before and adjusted quickly. Obviously, this is a bigger adjustment."
And, added Johnston, "She'll have to wear a uniform, just longer for her since she's 5 foot 9. And she'll have two or three host families."
"I'm looking forward to being fully immersed in the culture and seeing what it's like to go to a regular high school in another country," said Gregory. "School started in March, so I'll be coming in the middle of the school year, during break; but school will start again about a week after I arrive."
She'll be staying in Seoul or Incheon and hopes to visit Namsan Tower "where you can see the whole city of Seoul," she said. "I also want to see some music concerts, take a hip-hop dance class and visit my brother's best friend, who's now in the military there."
Gregory also hopes to become fluent in Korean and is looking forward to experiencing the world outside America in a non-English-speaking country. "I want to learn their views of life," she said. "From what I know about Asian countries, their level of respect for other people is astonishing – and we could probably learn from that."