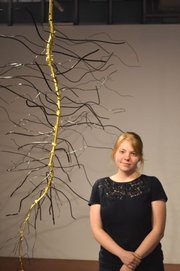 Since 2007, artist Dalya Luttwak has been working on a series of sculptures depicting the root systems of various plants. Some of these sculptures are on display at Reston GRACE located on the corner of Market St. and St. Francis in the Reston Town Center. "For me the work is very playful," said GRACE gallery and education assistant Sarah Black. "I love the play of the shadows on the walls."
Sourcing from roots that she digs up from out of the earth, Luttwak recreates the configuration of plant roots through mild steel to "reveal what nature prefers to conceal." Her series of root sculptures has made lasting impressions throughout the DC-Maryland-Virginia area. "This is a new body of work that focuses on what roots generate," said GRACE Executive Director and Curator Holly K. McCullough. "This is kind of a new direction for the artist." The exhibit is Luttwak's first solo show at Reston GRACE.
"Since 2007, I have been working on a series of large-scale metal sculptures that symbolically represent the root systems of various plants," stated Luttwak. "My sculptures are site specific or site responsive… I try to uncover the hidden beauty of roots, exploring the relationship between what grows above the ground and the invisible parts below of various root systems. My sculptures reveal what nature prefers to conceal. My wish is to uncover and discover roots even when they are hidden, indeed especially when they are hidden."
The sculptures are black with a gold element, which represents the visible product cultivated on the surface but supported through the root foundation. Germination of Gold additionally features actual roots collected by the artist and assembled in her studio. Born in Israel, Luttwak was educated at the Hebrew University of Jerusalem, and has resided in the United States since 1972. Always drawn to metal work, the artist created jewelry early in her career, but progressively shifted her focus to sculpture.
The Luttwak exhibit will be at Reston GRACE until Nov. 1, 2014. For more information on Reston GRACE, visit restonarts.org.