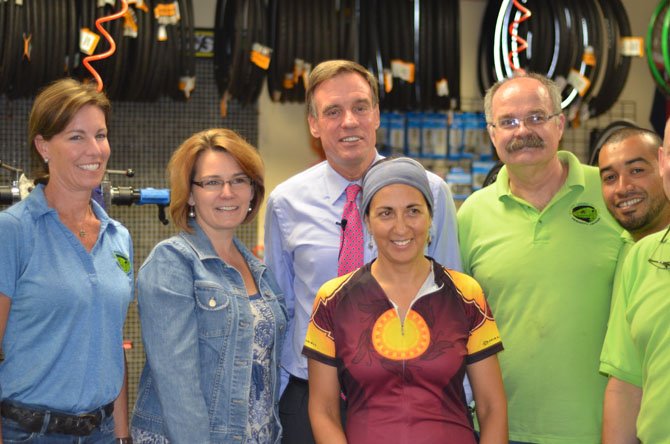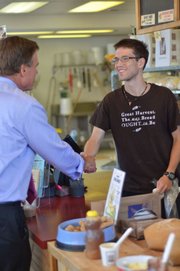 Herndon — United States Senator Mark Warner made a visit to downtown Herndon on Friday, Sept. 12. The purpose of the visit was to connect and chat with some local business owners and staff. Warner began his visit at ArtSpace Herndon, located at 750 Center Street. ArtSpace is a community art gallery created and supported by art lovers in the greater Herndon area. "In arranging the visit, I was delighted so many of our small businesses were able to meet our senator and that he was able to get to know what makes Herndon the great place to live, work and play," said Town of Herndon council member Grace Wolf.
Board members of ArtSpace Herndon greeted Senator Warner, including President of the Herndon Foundation for the Cultural Arts Harlon Reece and Director of Council for the Arts of Herndon (CAH) Signe Friedrichs.
"I was honored that Senator Warner chose to spend part of his afternoon in downtown Herndon visiting our small businesses, meeting residents and business owners," said Town of Herndon Mayor Lisa Merkel. Merkel introduced Senator Warner to staff at the Green Lizard Cycling shop on Lynn Street. An avid cyclist, Senator Warner said he would be back the next time he bikes to Purcellville. In addition to selling and renting bicycles, Green Lizard operates a coffee and soda bar. "It was a fun surprise," said Liz Shipley, a barista at Green Lizard. "We have had both senators Warner and Kaine here." In the past year, Virginia senators Mark Warner and Tim Kaine have both visited downtown Herndon.
Filming the senator's visit were volunteers with Herndon Community Television (HCTV), a nonprofit community access station dedicated to providing Herndon and the surrounding viewing area with access to programming of interest to town residents and local schools. Members of "Herndon Live" an HCTV program which showcases local events, took the opportunity to speak with Senator Warner at O'Sullivan's Irish Pub on Elden Street.

Other locations visited by Senator Warner included the Hot Spot, an infrared sauna spa and Great Harvest Bread at Station Street. The senator also met the partners and staff of Stout & Teague, a commercial real estate firm. "It is always fun to introduce people to Great Harvest," said owner Tim Groszkowski.
Senator Mark Warner is running for re-election in 2014 against Ed Gillespie. The candidates will face off in a Battleground Forum at CIT, Center for Innovative Technology in Herndon at the Center for Innovative Technology, 2214 Rock Hill Road, in Herndon on Sept. 19. The event is presented in partnership with the Loudoun County, Prince William and Fredricksburg Regional Chambers of Commerce.