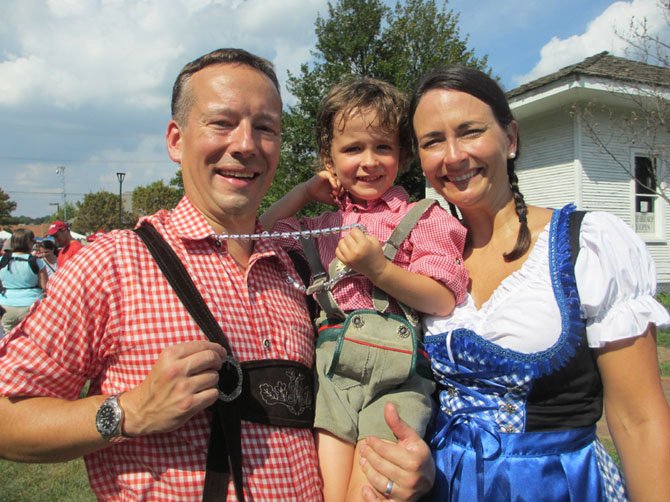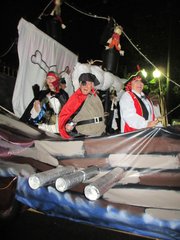 When the air turns crisp and the leaves burst into color, it's fall in Northern Virginia.
Vienna celebrates the harvest season, the spooky season, with fairs and special events, most notably, the annual Vienna Halloween Parade that's been bringing the community together for almost 70 years.
Don't forget...there are book sales in local elementary schools and children love shopping for their own books. Churches host rummage or crafts sales, and Patrick Henry Library holds its semi-annual book sale. The Barns of Wolf Trap offers fall through spring performances in a rustic and intimate setting.
And fall fun is just the prelude to the festivities of the holiday season.
Family Fun Day for Growing Hope
Saturday, Sept. 27, 10 a.m. to 1 p.m., Vienna Town Green; No admission charge.
The Optimist Club of Greater Vienna sponsors Family Fun Day and Walk to raise funds for the Optimists' Childhood Cancer Campaign, supporting local efforts to provide resources to children with cancer and their families. Family-fun activities include a fun run, bounce-house, dunk tank, local artists, face-painting, live music, refreshments, raffle drawings, and a live auction.
Donations stay in the community. Family Fun Day benefits "Growing Hope," a Northern Virginia nonprofit organization. Seventy-five percent of the Family Fun Day's proceeds go directly to Growing Hope. The remaining 25 percent is donated to the childhood cancer research program at Johns Hopkins University & Medical Center. Since its inception in 2006, Family Fun Day has raised approximately $300,000 to fight childhood cancer.
For more information or to pledge a donation, visit www.optimistclubofgreatervienna.org/childcc2014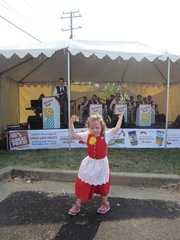 Oktoberfest
Saturday, Oct. 4, 11 a.m. to 7 p.m. Located on Historic Church Street and the Vienna Town Green, sponsored by the Vienna Business Association and the Town of Vienna.
The community comes together for a kind-of traditional Oktoberfest Festival with a beer garden, Bavarian and fair food, live entertainment, and activities for families. Approximately 60 vendors have booked space.
Live entertainment will be performed simultaneously at three venues along the festival route, from children's programming to party music. Kids' activities are centered on the Town Green, and Rocknoceros kicks off the entertainment on the kids' stage at 11 a.m.
Back by popular demand – okay, he was chosen by the Oktoberfest committee – is Burgermeister Greg Bernhard.
Proceeds support "First Night Vienna," a free family-focused New Year's Eve celebration held along Historic Church Street.
For information or to rent space, go to viennaoktoberfest.org/
A Thurber Carnival
Show dates and times: Oct. 17, 18, 24, 25, 31 and Nov. 1: 8 p.m.; matinees at 2 p.m. Oct. 26 and Nov. 2.
A Thurber Carnival is a collection of humorous scenes from American life including some of James Thurber's most celebrated and insightful satires based on his cartoons and humorous short pieces from The New Yorker, presented by the Vienna Theatre Company.
Tickets are available to purchase in advance at the Vienna Community Center front desk or at the door.
To reserve tickets, email vtcshows@yahoo.com. Tickets are priced at $14 for general admission. Tickets are on sale starting Sept. 22.
Performance venue is at the Vienna Community Center, 120 Cherry St. SE; Vienna.
For more information: visit www.viennatheatrecompany.org
Family Halloween Party
Saturday, Oct. 18; 2 to 3 p.m., Vienna Community Center gymnasium. Free. Sponsored by the Optimist Club of Greater Vienna and the Vienna Parks and Recreation Department.
This popular annual event features carnival games, crafts, door prizes, and family fun. Children – and their parents – are invited to come in costume. Costume prize awarded. Suitable for preschoolers to age 12.
Club Phoenix Halloween Costume Party
Friday, Oct. 24, 3:30 to 10 p.m., for children 6th through 8th grade; Club Phoenix at the Vienna Community Center. Sponsored by Vienna Department of Parks and Recreation.
Come in your costume to enjoy the food, games and costume contest that we have plan. Pizza will be served for dinner and change into your cozy pair of pajamas for an evening of age appropriate Halloween movies.
All grades (6th-8th) can stay until 10 p.m.
68th Annual Vienna Halloween Parade
Sponsored by the Vienna Business Association and the Town of Vienna; Oct. 29, 7 p.m. to 9 p.m.
Thousands of residents and former residents line Maple Avenue to watch the year's most-popular spectator event. Hundreds of marchers parade on floats, in groups, dance ensembles, bands and special performances, from the Redskins Marching Band to Shriners in tiny cars. Professional team mascots make a showing, as well.
This year's parade theme is "Celebrating the Tradition of Vienna Girls Sports."
Children are invited to walk in the parade in their halloween costumes. No registration is required; meet at 6:30p.m. in the parking lot of United Bank, 374 Maple Avenue E. Children must be accompanied by an adult.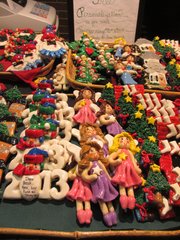 54th Annual Harvest Bazaar
Saturday, Nov. 8; 9:30 a.m. to 4 p.m., at the Vienna Community Center. Sponsored by the Vienna Woman's Club. More than 75 crafters and vendors, members' bake sale, breakfast and lunch items for sale, and children's activities are hallmarks of the annual arts and craft show hosted by the Vienna Woman's Club. Proceeds provide scholarships to students of Vienna-area high schools and grants to elementary schools.
Vienna Arts and Crafts Show
Thanksgiving Weekend: Friday, 10 a.m. to 5 p.m.; Saturday, 10 a.m. to 5 p.m.; Sunday, 11 a.m. to 4 p.m.
Annual three-day Northern Virginia Handcrafters Guild Vienna Arts and Crafts Show takes over the Vienna Community Center - running for more than 30 years -- features more than 80 juried artisans offering original, handmade arts and crafts, from decorative painting to woodwork, ceramics and pottery, jewelry and glass art. The artists and crafters are on-hand to talk about their work.
Admission per person is $3.The show takes over the Vienna Community Center, 120 Cherry Street, SE. For details, go to www.nvhg.org.