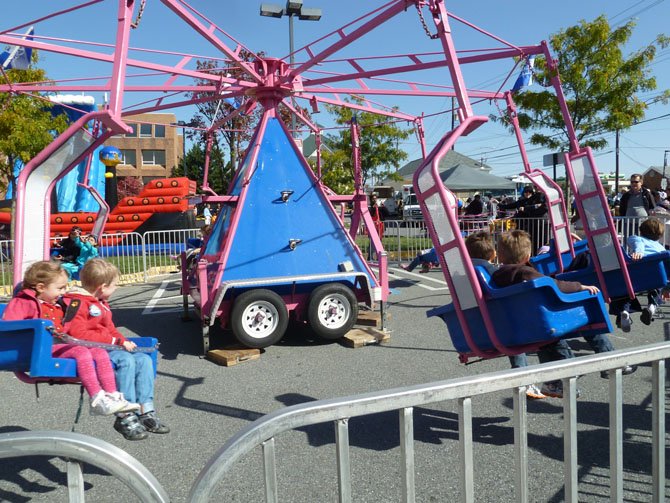 Photo Gallery
Getting Ready for Potomac Day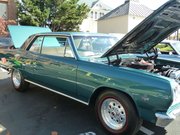 Click Photo for Flash
Oct. 25 is Potomac Day — and residents are already anticipating the excitement. Many are looking forward to the Grand Parade where children – and moms and dads too — can catch candy tossed from cars and trucks, spot a dentist dressed like the tooth fairy, cheer for their favorite businesses, political candidates and musical groups and applaud local Potomac leaders.
Sponsored by the Potomac Chamber of Commerce, the day provides a chance to gather with friends and neighbors, to watch children scale the rock-climbing wall or speed down giant pumped-up slides, and learn about new community businesses. Local restaurants provide a variety of lunch fare; the classic car show sports gleaming autos of yesteryear.
The parade features local businesses, high school bands, dance teams, clowns, equestrians and the Potomac Chamber of Commerce Citizens of the Year. The streets are lined on both sides of River and Falls Roads as the parade meanders through the Potomac Village crossroads. Once the parade breaks up, there is plenty to do in the Potomac Promenade parking lot. Children can scramble onto a pony's back for a ride, venture onto children's rides, jump on the moon bounce, create fall crafts, pet the ducks, miniature pony, sheep and goats. There's food for everyone and much information about the latest "green" cars, political candidates, private schools, delivered lobsters — and more.
Darcars is the Presenting Sponsor this year and, according to Jennifer Matheson, director of operations for the Potomac Chamber of Commerce, "We are anticipating that the car show will be bigger than ever. We have new award categories which include the Peoples Choice, President's Award and the Fire Chief's award."
Gold, Platinum and Elite Corporate sponsorships are available. All three types of sponsorships include names of the business in large letters on a promotional item such as a t-shirt or shopping bag, spaces at the Business Fair and in the parade, Chamber of Commerce memberships and more. To sign up for these sponsorships, the parade, children's fair, and other activities, contact the chamber office 301-299-2170 or e-mail jennifer@potomacpizza.com. Forms for registering for the parade, the business fair or the children's activities are on-line at www.potomacchamber.org.