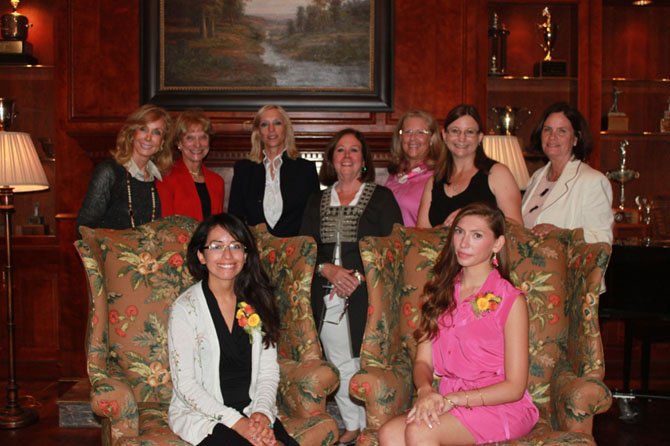 Great Falls Friends and Neighbors gave out $10,000 in scholarships to college women to kick off the start of the school year.
Six women from George Mason University and Northern Virginia Community College, ranging in ages and opportunities, were presented scholarships during a luncheon at Riverbend Country Club on Friday, Sept 19.
"The mission is to support women," said GFFN Scholarship Board Chairwoman Ricki Harvey.
Scholarship money is raised annually through the group's bridge jamboree. Harvey said they might explore more fundraising options next year.
"Hopefully by furthering their education, we can help support families," she said. "Several of our recipients are mothers."
Susana Guevara, Clifton, is one of those women. The 30-year-old Northern Virginia Community College student balances her life as a single mother of two children with her collegiate life.
"I always wanted to be a business owner," she said.
Her family moved here from Peru. She said her mother owns a cleaning business she is hoping to use her future business degree to expand and one day manage it.
She plans to graduate from NVCC in the spring and hopes to transfer to Georgetown University.
"All of our recipients came from diverse backgrounds," said Harvey. "We really made a difference to impact these young women today."
Rachel Stover, Dinwiddie County, is a dance major who is hoping to also get into the event planning industry. The 20-year-old George Mason University junior has been dancing for as long as she can remember, but said that she wants to be prepared in case she can't dance one day.
"My whole family played baseball. From a young age, I told them I didn't want to play tee ball. I wanted to dance," she said. "I want to perform as much as my body allows me to."
She is heavily involved in GMU's dance program, but also takes time to mentor freshmen.
In addition to Guevara and Stover, other women who received scholarships were Stephanie Peyton, Mary Alemayehu and Ji Hee Kim who attend GMU and Marija Sokolovic who attends NVCC.
Harvey noted that some of the scholarship recipients were not able to attend the luncheon, but she said they had a good reason.
"A lot of these women are in school and they work, so they weren't able to make it," she said.