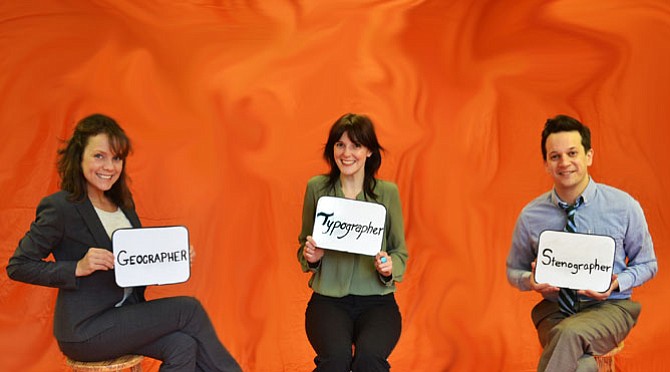 The venturesome, daring folk at the Hub Theatre are continuing to bring audiences bold new works by playwrights less often produced in the area. For its spring production, the Hub is producing the area premiere of the provocative and insightful "The Typographer's Dream" written by Obie-Award winning playwright Adam Bock.
"The questions posed in 'The Typographer's Dream' are so relevant to this area," said Helen Pafumi, artistic director, Fairfax's Hub Theatre. The production explores connections between one's profession, one's self-respect and personal relationships with both humor and intellectual depth. "There is purpose in the work we do. 'The Typographer's Dream' wrestles with our purpose and with our identity. Why do we do what we do? Why does it matter?" Pafumi said.
Pafumi noted that the show has a rhythm that "allows us to delve into this work/life meditation with his humorous and honest writing style. It frees our three actors to connect directly with the audience and bring them into their world." The three actors are Daniel Corey, Katie Nigsch, and Jenna Sokolowski.
The production is directed by Matt Bassett. He received a Helen Hayes Award nomination for his 2014 direction of the Hub's "Failure: A Love Story."
"The show explores what happens in stressful work. When asked to describe their jobs, some of the characters are shy while others are confident; some appear overeager while others are less able to define themselves," said Bassett.
Where and When
The Hub Theatre presents "The Typographer's Dream" at the John Swayze Theater, the New School of Northern Virginia, 9431 Silver King Court, Fairfax. Performances: April 10-May 3. Fridays at 8 p.m., Saturdays at 2 p.m. and 8 p.m. and Sundays at 2 p.m. Tickets $ 20- $30. Call 1-800-494-8497 or visit http://www.thehub...">www.thehubtheatre...
"Over time we see more and more of the real individuals appear and not be hidden away," added Bassett. "As the cast interacts with the set, props and the audience, they open themselves up about their hopes, dreams and relationships."

When asked what audiences can expect as they take in the production, Pafumi responded, "I hope they come away thinking about their work as having great purpose, no matter the profession. We all have something that contributes to the whole. And I hope they remember that life is not just one thing. Your life is not just our job, and we are not just defined by our job title. We are so many things."
So what might you say if asked to describe your job and who you are? We are so much more than our jobs, aren't we? For if we are not, what happens if and when you hate your job? Explore it all at the Hub Theatre's "The Typographer's Dream."