It is St Patrick's Day at Culpepper Garden in Arlington, and there is a party underway downstairs. As the accordionist touches the black and white keys, Marilyn Jarvis stands up and makes her way to the aisle, grabs a partner, Adrianna Bustamante, and begins tap dancing to "The Sidewalks of New York."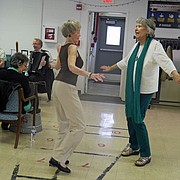 Culpepper Garden is celebrating its 40th anniversary in Arlington in 2015. It was the first moderate-and low-income assisted residence in the U.S.
Dee Bivens, president of the Advisory Board, says there are so many things to do at Culpepper Garden that you could be busy all day and all night if you wanted to.
The activities list on the whiteboard for March 17 lists French, both traditional and gentle yoga, Spanish book club, and the Merrymakers. Movies are offered three times a week, church services on Sunday, exercise every morning and regular discussions of current events.
Bivens says that Culpepper Garden, named after a botanist Charles Culpepper, who made five acres of land available, has 15 garden plots planted by residents.
"One right at the front is Julia's and always has a variety of beautiful flowers." Bivens says gardening is therapy.
In the background you can hear the band swing into "Alive-Alive O" with the residents singing along with their sheet music.
Meanwhile underway upstairs there is a food forum feedback session with Chef Greg Riddle. A man in the corner volunteers that while 99 percent of the food is fantastic that last time they had spaghetti there wasn't enough sauce. The chef says to let a server know and he'll bring more sauce.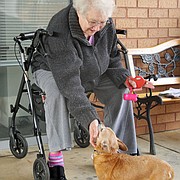 Eva Mayo, sitting in a wheelchair in the front of the room with her great granddaughter, Taylor, interjects that she likes sweet potatoes. The chef is writing notes. Mayo takes care of her granddaughter each day in the independent living facility.
Lorraine Thorpe, sporting a festive straw hat, volunteers that she has a recipe for "best ever cake" with pineapple and cream cheese on the top that melts into the cake. Riddle says, "give it to me and I'll figure out how to make it for 300."
In a waiting room just off the lobby Jim Daley sits in a wheelchair with his ankle in a white cast waiting to see a doctor. "They asked me what color cast I wanted and if I'd thought of St. Patrick's Day, I would have said green," he said.
Hunter Moore, senior operations officer, says Culpepper has a doctor available Thursday mornings, health care agency Tuesday and Friday and a podiatrist and dermatologist once a month.
Marvin Davis, front desk supervisor, has been there since 2003 and Moore says, "Marvin knows all about everything." Davis says his father came to Culpepper in 1982 and his aunt arrived a few years later.
According to Capri, who has been at Culpepper since 1997, "this is a family affair." She also had a great aunt who lived there. In an office close by they have a money manager from Northern Virginia Family Services available to the residents to help with financial issues like duplicate bills, setting up a budget and confusing bank statements.
Next door is Barbara Thode, director of resident services who connects people with services such as health care, taxes, and Medicare. Thode began as director of activities in the assisted living unit in 2002 and moved to her present position in 2005.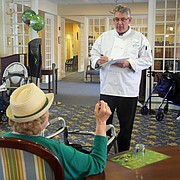 Culpepper has 340 apartments for seniors age 62 and older. It was opened in 1975 as an independent living facility with 204 apartments. Under the HUD-subsidized program, residents are required to pay a base rent and buy at least one meal a day. Culpepper II, also independent living, opened in 1992 with 63 one-bedroom apartments and the requirement to pay 30 percent of income but no meal purchase. Culpepper III with 73 one-bedroom apartments was established in 2000 as a supportive services residence.
According to Gloria Capri, director of admissions, there is quite a backlog of interest. But there are three vacancies this week and about 99 turnovers a year. Capri, who is the first face an applicant would see, says she gets 4,000 calls a year, and last year sent out 234 packets of information and gave 237 walk-in tours. "We try to be accommodating and do them early and at lunch."
Vicki Kirkbride was hired as the Interim director of Culpepper Garden in 2013. She focuses on fundraising, marketing and communications as well as board relations. She says her goal has been to establish a pattern of fundraising and a grants management program, a real development plan. "And we have started to build the blocks," she said.
Culpepper is supported by housing and nutrition grants from HUD and Arlington County as well as donations from private groups, the faith community and individuals. "Our biggest challenge has been assisted living because people there need another level of care, particularly as they get older. And for many their resources change and there isn't the same level of funding support available as for independent living," she said.
Kirkbride says, "This is an amazing place."
And the day at Culpepper is just beginning with corn beef and cabbage and Irish stew on the menu for dinner and one more St. Patrick's Day party scheduled for the evening.