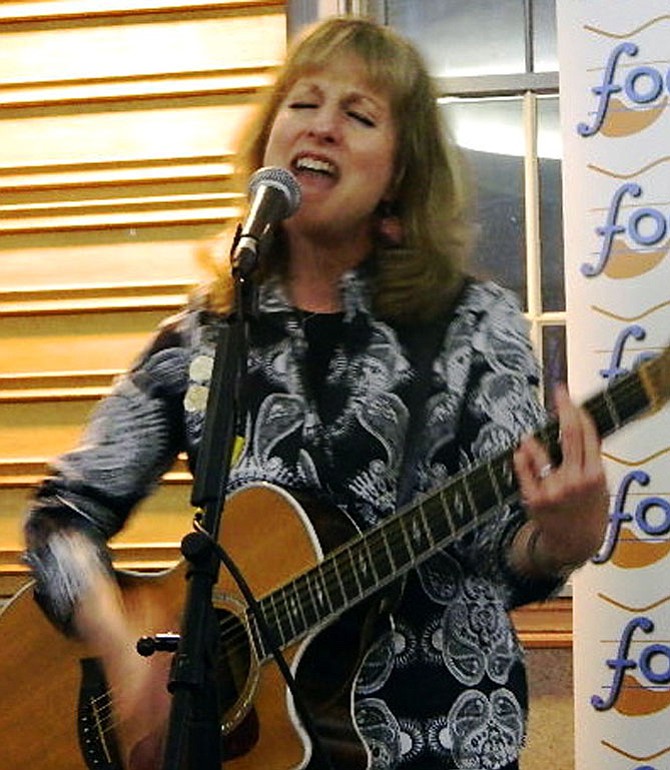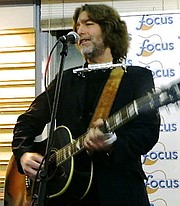 Two talents on the American folk music scene – Susan Greenbaum and John Flynn – performed to audience acclaim Saturday night, March 14, at the Church of St. Clement on North Quaker Road to mark Focus Music's 100th Alexandria concert since its inception 13 years ago.
Appearing first and playing guitar, Greenbaum sang original songs as her drummer, and husband, Chris Parker marked time.
He's also one of the photographers on the YouTube music video of her song "Virginia, the Home of My Heart," a love song to the state of Virginia. It's a candidate to become the next state song of Virginia. Listeners can show their support at www.facebook.com/homeofmyheart and writing to their delegates. It currently has over 2,000 "Likes."
Other songs included "Wake Up!" "Penny on the Sidewalk" and "Everything But You." All her original songs on her three CDs can be heard at SusanGreenbaum.com.
Next to appear on stage in the double-bill show, John Flynn belted out his original lyrics. In a powerful voice — with the occasional howl — he poured out his rejection of racism, poverty, war and called for compassion.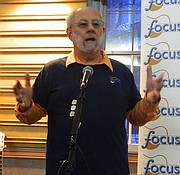 "I wanted to write songs to change the world," he said of his youthful ambition, a vision he realizes in pithy, heartfelt songs like "Don't Just Stand There, Do Something," "I Want to Go Where There's No Them There," "You can Change with Only One," and "The End of the Beginning," about the tragedies of the Iraq War.
Flynn started off out of high school headed to become a midshipman at Annapolis, but veered when he discovered he wouldn't be permitted to take his 12-string guitar. He wound up putting himself through Temple University playing in bar bands and saloon-singing, and was signed in Nashville as a songwriter, later winning the friendship and support of Kris Kristofferson and Arlo Guthrie.
His website JohnFlynn.net makes available his 10 CDs, including his most recent, titled "Poor Man's Diamonds." Included is "Like Woodie Done" about Woodie Guthrie and his 100th birthday.
"He came into this life kickin' and cussin'."
It's become the theme song for the rebuilding of Guthrie's boyhood home "The London House" in Okemah, Okla. Flynn will give a concert there to celebrate the house's grand opening..
Focus volunteers keep folk music prospering in the Washington, D.C. area with singers receiving 75 to 80 percent of ticket proceeds, said venue manager Herb Cooper-Levy. Celebrating Focus' 100th Alexandria concert, he brought a huge cake for the audience and Focus volunteers to enjoy at intermission.
Honoring the occasion was Alexandria City Councilman John Taylor Chapman who cut the cake. Focus volunteers included Peter and Alison Lattu, Gail Meyer, Gail Meaker, Louise Budelis, Kay Coyte, Judy Oliver and Jay Kohn. To keep up with future Focus concerts, visit FocusMusic.org