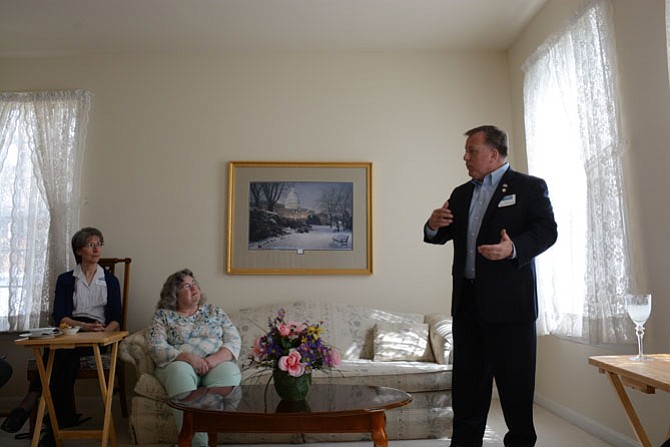 By 2:30 p.m. on April 2, Dumfries Mayor Jerry Foreman had already attended meet-and-greets in Stafford, Quantico and Montclair. His fourth stop was the home of Susan Valentine in the Kingstowne area of Alexandria. A fifth event, an ice cream social called "Get the Scoop on Jerry," awaited him at the finish line in Dumfries.
After announcing his candidacy to represent the 36th Virginia Senate District, which includes parts of Fairfax, Prince William and Stafford Counties, Foreman was out on one of what he said will be numerous road-trips traversing the territory. The seat is being vacated by Sen. Toddy Puller, who said she will not seek re-election.
On March 26, the Republican's campaign declared Foreman would be unopposed for the party's nomination to face Democrat Del. Scott Surovell (D-44).
"My success in a town like Dumfries is simple," he said in the statement announcing his campaign, "Be honest and straightforward with voters and business owners; promote accessible, transparent government; and make sure hardworking taxpayers and fixed-income retirees get more for less."
He was received in Valentine's dining and sitting rooms by a dozen members of the community, who enjoyed light refreshments and soaked up warm afternoon sun streaming through windows.
"The first thing I learned about being mayor," Foreman said as he began some impromptu remarks, "is being available to the people." In his nearly four years as Mayor of Dumfries, a town of around 5,000, he said his accessibility to citizens has been key to the role, and something he hoped to share with voters on the road trips.
Foreman gave a succinct bio, including his 25 years as a U.S. Marine, work as an aviation consultant, election to Dumfries Town Council Council in 2010 and elections to mayor in 2012 and 2014.
Valentine, who is also the Lee District Republican chair, has hosted similar candidate and interest meetings before.
She said she's optimistic for the party's chances in the election climate. "There's an enthusiasm and confidence, it's an environment where people can be successful."
Both Valentine and Foreman commented on the "vast area" that comprises the 36th District. "There are so many levels to coordinate for the greatest effect what people actually want, what will make a difference," said Valentine.
Foreman gave the example of transportation and redevelopment developments along the Route 1 corridor. "I will represent the entire district," he said. "Route 1 projects in Dumfries, Prince William County, Fairfax shouldn't be ranked against each other, but count as one, for the benefit of everyone."
He answered questions about his legislative agenda by continuing the themes of communication, connecting with local citizens and making sure decisions would benefit all three counties. Foreman highlighted needing to generate business, despite not having retail centers like Potomac Mills or Tysons, as well as getting Stafford more representation at the Northern Virginia Transit Authority and protecting the district's waterways.
If elected, Foreman said, some of his first phone calls would be to set up meetings to "align visions" with the county supervisors and school board members in the district. "It's a matter of three different school boards with different concerns that need to be balanced and fairly represented," he said.
For more information on Foreman and future events, visit www.gmforemansenate36va.com.