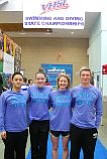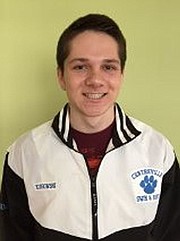 Centreville Swim and Dive
Has Five Qualify for State Finals
The Centreville swim and dive team had five athletes qualify for state finals in Richmond.
Kyle Marshall qualified in the 100 back and the 100 fly. Marshall finished seventh in the State in the 100 back and 15th in the 100 fly.
Logan Ross, Sarah Hessler and Terry Jung all competed in the 100 breast. Ross finished 10th in the State.
Tyler Kurowski represented Centreville in the diving competition and finished 12th in the State.
Centreville Boys' Lax Plays
In Woodgrove Tournament
The Centreville boys' lacrosse team took part in the Woodgrove tournament in Purcellville over spring break, winning all three of its games to bring its season record to 4-1.
The tournament wins came against Edison, West Springfield, and Stonewall Jackson between March 28 and April 1, with scores of 14-8, 18-10, and 13-5. Centreville's top scorer for the tournament games was John Tarver with 12 goals, and its assist leader was Tyler Heidt with eight.
The Wildcats have demonstrated unselfish play this season, recording assists on almost two thirds of their goals and already surpassing the team's assist total from 2014. Centreville is looking forward to the rest of their 2015 season under the direction of head coach Jed Williams.
Chantilly Baseball To Host McLean
The Chantilly baseball team will host McLean at 6:30 p.m. on Wednesday, April 8 in a rematch of last season's 6A North region championship game.
The Chargers captured the 2014 region title with a 12-0 victory. The Chargers advanced to the state final, where they lost to Western Branch, 6-4.
Chantilly is off to a 5-2 start in 2015. Two days after facing McLean, the Chargers will host Centreville at 6:30 p.m. on Friday.
Westfield Girls' Lax Starts 3-1
The defending state champion Westfield girls' lacrosse team returns from spring break with a 3-1 record.
The Bulldogs defeated Hilton Head 19-1 on March 30. Westfield also has wins against Stone Bridge and Herndon.
Westfield lost to St. Anne's-Belfield, 20-7, on March 21.
The Bulldogs will travel to face Woodgrove at 7 p.m. on Thursday, April 9 and will host Robinson on Thursday, April 16.