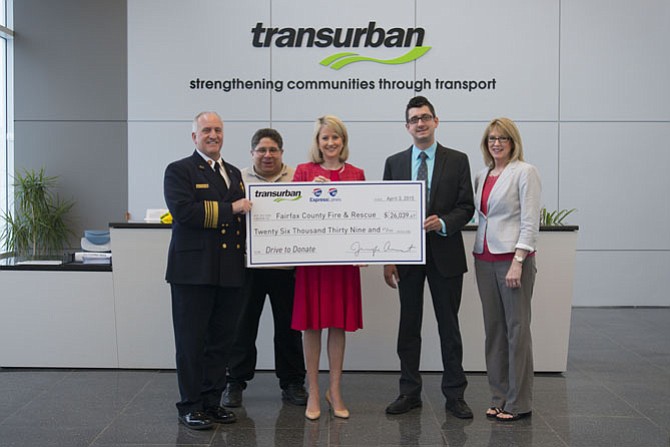 Transurban, operator of the I-95 and I-495 Express Lanes, designated March 21 for a "Drive to Donate" campaign. All tolls collected on that day from the nearly 40 miles of lanes stretching from the Dulles Toll Road to Stafford County would be donated to local Fire and Rescue departments.
With over 20,000 drivers using the lanes that Saturday, Transurban raised nearly $80,000 for the donation. On Friday April 3 at the Transurban Express Lanes Operations Center in Alexandria, Transurban Group General Manager North America Jennifer Aument presented checks of over $26,000 each to the Fairfax County, Prince William County and Stafford County Fire and Rescue Departments.
"As safety is the top priority on the Express Lanes, it was important to us to support our local fire and rescue organizations," Aument said in a statement. "This donation is one way we can thank our local heroes for keeping the communities surrounding the Express Lanes corridor safe each and every day."
Fairfax County Fire and Rescue Department Chief Richard Bowers said their donation will help fund life-saving fire, rescue and emergency medical services equipment. "Thank you for the contributions that will make a difference in the lives of our residents and those that pass through our community on a daily basis," he said in a statement.