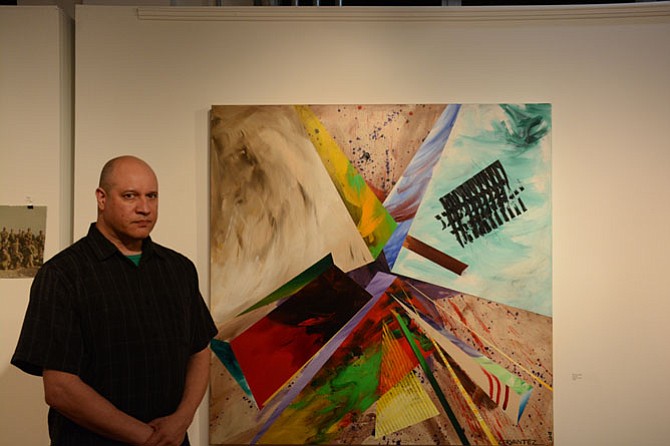 "This is going pretty deep for me," said Lewis Walls. "But it's going to bring me a lot of closure too."
Walls, a veteran stationed at Fort Belvoir, stood behind a spotlit music stand in front of an audience that filled the Vulcan Gallery of the Workhouse Arts Center in Lorton.
He proceeded to read a tragic and visceral first-hand account of two military units being attacked on tour in the Middle East, the injuries he sustained and the "hell" of war.
Walls' emotional performance was one of many on the evening of April 3, the culmination of a weeklong writing and visual art workshop run by the Philadelphia-based nonprofit organization Warrior Writers.
Around 15 local service members and veterans read poems, essays and short stories that expressed feelings of before, during and after deployment, killing men, administering aid, being injured and being sexually assaulted.
The walls of the gallery were adorned with their visual work: screenprints on "Combat Paper" made of shredded and pulped old military uniforms.
"We're not art therapists," said Warrior Writers director Lovella Calica. "Our goal is to create community and give guidance in art-making."
After serving in Afghanistan in 2008 and 2009, Joe Merritt said having a different community built with art was a "key ingredient" for his recovery and others. "It's always having someone to reach out to."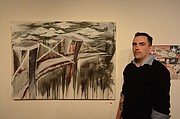 Merritt, a veteran from Denton, Maryland stationed at Quantico, started working with Combat Paper in 2012 as part of his Posttraumatic stress disorder therapy.
Through the art, he said, "I'm able to communicate part of myself, stuff you can't say over dinner."
Stephanie Jones, stationed at Fort Belvoir and part of the U.S. Army Warrior Transition Unit, said speaking in front of the group was hard. "Most of my writing I didn't share," she said. "It helped to get some stuff on paper."
For John Allen, U.S. Army and stationed at Fort Belvoir, reading his short story about a wolf was just "like giving a class" on base. "I have a mental checklist," he said, that includes posture, inflection and pacing. Allen praised "inspiration cards," writing prompts used to get expressive juices flowing during the workshop.
The Workhouse Arts Center has been pursuing a military and the arts initiative that also includes an exhibition of photography by Colonel Gregory Gadson (USA, Ret.) called "Life in the Infrared" and the addition of former military illustrator and war documentarian Martin Cervantez as a resident military veteran artist.
Cervantez, a Mason Neck resident on medical retirement from the U.S. Army, was previously artist in residence for the U.S. Army Center of Military History. He said he seeks to express passion in abstraction and brings awareness to different ideas through his artwork.
With his residency in Building 6, he hopes to involve more of the local military community in art-making and experiencing at the Workhouse. "This is right in their backyard," he said.
For more information on current and upcoming exhibitions, visit www.workhousearts.org.