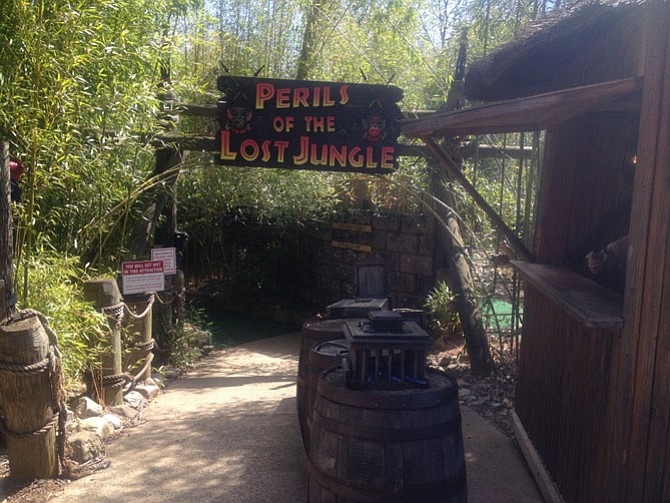 This fall will be the final season for Woody's Golf Range located on Route 7 in Herndon. After 35 years in operation, business owner Woody FitzHugh is closing the range. The Fairfax County destination includes the "Perils of the Lost Jungle," a popular miniature golf course. "Most people are sad to see us go and wish we were staying," said general manager Rich Rahnama.
Rahnama has worked with Woody's Golf Range since 1995. All Woody's Golf Cards and lesson vouchers have an expiration date of Sept. 7, 2015 with no exception.
Recent VDOT construction along Route 7 has made it difficult for clients and patrons to visit the Herndon golf range. Owner Woody FitzHugh had hoped to stay at the Herndon location a few more years, but determined change was necessary. FitzHugh sold his 30 acres to residential builders Northern Virginia Homes for an undisclosed price. FitzHugh sees it as a time of transition, and is now scouting property for a new miniature golf course. Some potential sites include locations near Fairfax City and Berryville.
Also closed is the Hunter Mill Golf Park, at 1627 Hunter Mill Road on the Reston-Vienna line. The 100 tee golf range closed on Jan. 25. On April 15, The Fairfax County Board of Zoning Appeals (BZA) will make a decision on the future of Reston National Golf Course. RN Golf, owners of the 166-acre public course in south Reston, say the land can be considered residential. RN Golf, a division of Northwestern Mutual Insurance, has asked Fairfax County of the land status since 2010.
While golfers adjust to changes, the Fairfax County Park Authority still operates eight golf courses at locations including Twin Lakes Golf Course at Clifton, Laurel Hill in Lorton, and Burke Lake Golf Center at Fairfax Station.

Born in Alexandria, Woody FitzHugh was a baseball star at McLean's Langley High School and went on to play at Hampden-Sydney College. While attending Hampden-Sydney College as a sophomore, FitzHugh took up golf. FitzHugh worked for five years as an assistant golf pro at the Washington Golf and Country Club in Arlington. In 1979, he earned his PGA tour card and began touring professionally.
In 1980, FitzHugh bought 30 acres of pasture in the Dranesville area, off Route 7, in Herndon. In October 1980, FitzHugh opened Woody's Golf Range.
The range expanded to include driving ranges, a gift shop, as well as baseball and softball batting cages. FitzHugh was known to wander down to the cages to give kids pointers and hand them free tokens.
While management prepares for changes in the months ahead, they intend to cherish the memories of the experience they leave behind. "There will be a final event for all the clientele we've had throughout the years," said general manager Rich Rahnama.