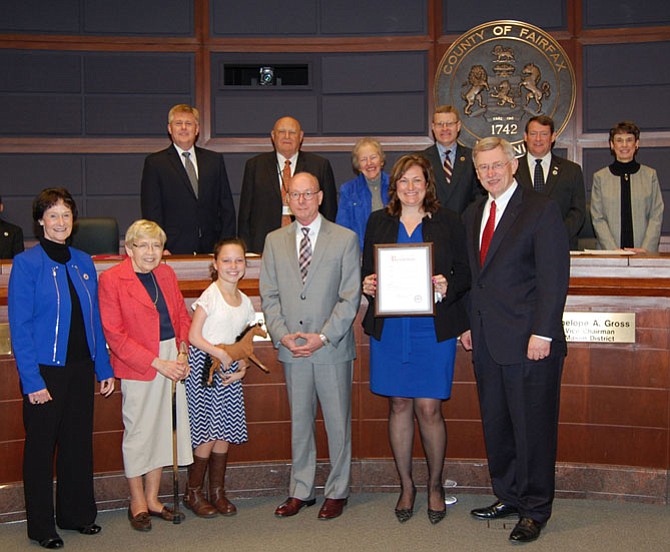 The Board of Supervisors told Laura Smith she can bring a real horse with her for Lift Me Up!'s 50th anniversary ceremony.
Last Tuesday, Smith brought a horse miniature that she placed on the podium while the Board of Supervisors honored the therapeutic riding program located in Great Falls for its 40th anniversary celebration.
"Supervisor Foust suggested I bring a horse. It seemed to be the easiest way," she said.
Lift Me Up has provided thousands of therapeutic horseback riding lessons to children and adults with disabilities at its Great Falls stable since 1975. Each week more than 100 riders develop new riding skills that enhance their core strength, balance, coordination and confidence.
"Thank you for this special distinction. Lift Me Up is a labor of love," said Smith. "It's really hundreds of thousands of hours over 40 years that the citizens of Fairfax County have shared with Lift Me Up to help us achieve this goal."
Lift Me Up trains volunteers age 14 and older to assist with the therapeutic riding lessons as sidewalkers and leaders. Volunteers donated nearly 10,000 hours of service to help riders each year.
"It's a wonderful program to be a part of because not only do we help riders, we help others within our community who are looking for a place to serve, to learn about horses, to learn about how to work with people with special needs," said Smith. "We reach a lot of teenagers who go on to do lots of wonderful things in caring professions. We appreciate your attention today and hope you will join us on our Founders Day on May 17, 1 to 4 p.m."
Lift Me Up recently launched a new program for injured veterans called BITS (Back in the Saddle).
"This is a really thrilling opportunity to bring Lift Me Up before the Board. Thank you for everything you do for our community, and for your 40 years of success. I was particularly excited that you now have Back in the Saddle, a program for wounded warriors," said Foust. "Congratulations, thank you, we are glad to have you in Great Falls," he said.
"I'm impressed that you are also serving wounded warriors, folks coming back from service. It sounds like a wonderful program to help them to heal as well," said Chairman Sharon Bulova.
Two Lift Me Up riders, including Sarah Wickman, attended the ceremony as well.
"We could have brought Sarah up alone to be recognized because I understand that she was a Grand Champion of a riding show in Lexington last year," said Foust. "Congratulations to you Sarah."