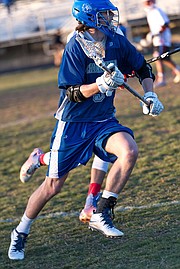 Churchill Boys' Lax Improves to 8-0
The Churchill boys' lacrosse team defeated Whitman 12-3 on Monday, improving the Bulldogs' record to 8-0.
Churchill faced its toughest test to date on April 11, when the Bulldogs edged Franklin (Reisterstown), 8-7.
Churchill will host Sherwood at 7 p.m. on Thursday, April 16.
Wootton Boys' Lax To Face Tough Tests
The Wootton boys' lacrosse team entered spring break with a 4-0 record, including an 8-7 win over Glenelg on March 27.
The Patriots have a pair of tough tests approaching during a one-week stretch. Wootton will travel to face Walter Johnson at 7 p.m. on April 17. WJ entered Tuesday's action with a 6-1 record.
Wootton will travel to face rival Churchill at 7 p.m. on April 23. The Bulldogs enter Tuesdaywith an undefeated record. The two teams met in last year's 4A/3A West region championship game, with Wootton coming out on top.
Whitman Baseball Starts 3-4
After dropping three of its first four games, the Whitman baseball team earned back-to-back wins to even its record.
The Vikings beat Northwood 10-0 on April 1 and Richard Montgomery 11-1 on April 2.
On April 11, Whitman lost to Paint Branch 4-1, dropping its record to 3-4.
Andrew Cashmere leads the Vikings in batting average (.444), runs (6) and RBIs (5).
Sam Berson and Sean Cook have been the Vikings' top pitchers. Berson is 1-2 with a 2.47 ERA, allowing seven hits in 11.1 innings. Cook is 1-1 with a 1.40 ERA, surrendering four hits in 10 innings.
Whitman will host Churchill at 7 p.m. on Thursday, April 16.