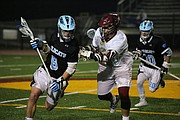 Centreville Boys' Lax Adds Three Wins
The Centreville boys' lacrosse team opened its Conference 5 schedule with an 11-8 win at Oakton on April 8.
Quick starts by the Cougars in the first and third quarters forced the Wildcats to fight from behind for much of the game. Facing a two-goal deficit, Centreville's Pat Fuller opened the fourth quarter with a quick goal, followed by two goals from Matthew Laurence to take the lead. Additional goals by John Tarver, Carson McEver, and Kyle Richbourg contributed to the final total.
The Wildcats visited Arlington County on Saturday, April 11, playing back-to-back games in Washington-Lee's Crease Clash. Both games resulted in 15-5 Centreville wins.
Centreville seized control of the first game with a six goal barrage against the host Generals. Washington-Lee managed two goals at the end of the first quarter, but Centreville goalie Josh Tarver had already recorded seven saves by then. The shooting slowed in the second quarter, but the Wildcats led at halftime 9-2 and dictated the pace for the balance of the game.
The second game of the day pitted Centreville against West Potomac. Both teams opened with deliberate approaches and the Wildcats held a 2-1 lead after the first quarter. Three more Centreville goals came over the next six minutes, but the Wolverines rallied with three goals in a 75-second span to bring the score to 5-4.
Winning the subsequent faceoff, the Wildcats stormed back with a furious burst of their own. With just 68 seconds left in the first half, Fuller and Richbourg each scored goals, seizing the momentum and propelling the Wildcats through the second half for their seventh victory of the season.
Westfield Girls' Lax To Host Robinson
The defending state champion Westfield girls' lacrosse team will host Robinson in a key Conference 5 contest at 7 p.m. on Thursday, April 16.
Westfield is off to a 4-1 start and has won three straight since losing to St. Anne's-Belfield. Robinson entered Tuesday's contest with a 7-1 record.
Chantilly Baseball Beats Centreville
The defending 6A North region champion Chantilly baseball team improved to 7-2 with a 3-2 victory over Centreville on April 10.
Two days prior, the Chargers defeated McLean 2-1 in a rematch of last year's region final.
Chantilly will travel to face Herndon at 6:30 p.m. on Wednesday, April 15.
Over-40 Men's Softball Team Looking for Players.
Games are throughout the summer on Sundays in Herndon. Lots of fun. Experience preferred.
Contact dtazbin@aol.com or call 703-406-4711.