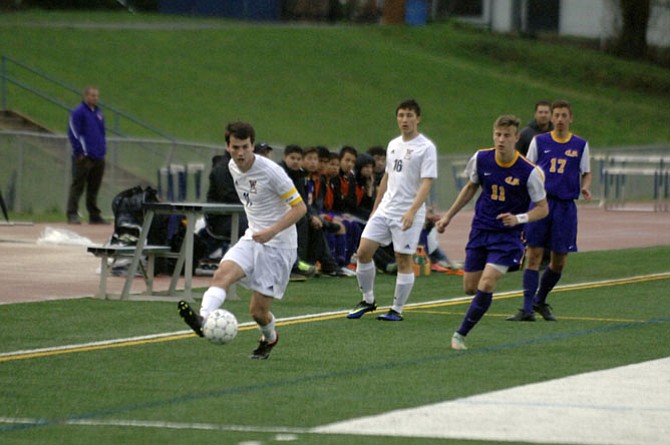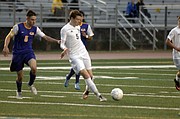 The Woodson boys' soccer team is still learning the possession style first-­year head coach Andrew Peck is trying to teach, and the Cavaliers spent much of Tuesday's match against Lake Braddock on the defensive.
But after capitalizing on a pair of opportunities and dodging a few Bruin chances, Woodson emerged feeling pretty good about its place among Conference 7 contenders.
Zach Yaglou flicked in a header in the 17th minute, JW Clark found the back of the net with a free kick in the 66th minute and the Cavaliers blanked Lake Braddock 2-­0 on April 14 at Woodson High School.
The Bruins were on the attack for most of the match, but Yaglou's goal, assisted by a Connor Werrlein throw, gave the Cavaliers the confidence of playing from ahead.
"It was huge," Yaglou said. "If we go down 1­0 ... we put our heads down. ... We were talking about how this game could be what decides who wins our conference and gets that bye to regionals. Since we beat [Lake Braddock], we have to worry about T.C. [Williams], Annandale, South County ­­­ all those other teams ­­­ [but] if we keep getting the wins, we'll be able to get the bye to regionals."
THE VICTORY improved Woodson's record to 3­-2, including 2-­0 in the conference. The Cavaliers defeated West Potomac, where Peck spent the previous eight seasons, 3-­1 on April 7.
Lake Braddock (4-­2) had its four-­match win streak snapped and fell to 1-­1 in the conference.
"This ... is kind of like a ramp-­up stage [of the season], and they came up big when it counted," said Peck, who guided West Potomac within one win of the state tournament in 2014. "Lake Braddock kept pressing, but [the Cavaliers] kept their composure."
Woodson carried a 1-­0 advantage into the second half before Clark converted a set piece into an insurance goal.
Clark sent a free kick goal­ward from inside 30 yards with the intention of finding a teammate. Instead, the ball skipped across the wet turf and into the net.
"I was amazed," Clark said. "I thought somebody hit it. When I hit it, it felt really good. ... I'm happy it just went through."
Peck, a former collegiate goalkeeper, said defending that particular set piece can be difficult.
"It's almost like a screenplay, because the keeper's lost," Peck said. "You can't see."
Woodson made the most of its limited scoring opportunities and the Cavaliers defense held strong, led by the aggressive play of senior goalkeeper Brian Breslin.
"Brian, our keeper, he played outstanding tonight," Peck said. "He came up with some huge, game-changing saves because he's quick off his line. It doesn't matter if the guy is 7 feet 2, he'll go in and challenge you."
Breslin, who is 5 feet 7, said he is aggressive to compensate for his lack of size. He also complimented Peck's no­nonsense approach to coaching.
"He gets you going," Breslin said. "He's really good at motivating. He got us really hyped for this game and ... prepared."
While Woodson is off to a good start in conference play, the Cavaliers have their work cut out for them. Woodson will travel to face South County at 7 p.m. on Friday, April 17. The Stallions started the season with a 1­-2­-1 record, but proved last year they can overcome a slow start, reaching the conference championship match after entering the tournament as the No. 7 (lowest) seed.
WOODSON will also have to face defending 6A state champion T.C. Williams, which is off to a 5­-0-­1 start, on May 4.
"We're still not totally getting it ­­­ the style," Peck said. "It took me eight seasons to get it at West Potomac, so I don't expect it to happen in five games here. But right now, if these guys can kind of keep this momentum going, with the guys who are in place ­­­ and we've got a deep bench right now ­­­ it's going to start pushing in the right direction."