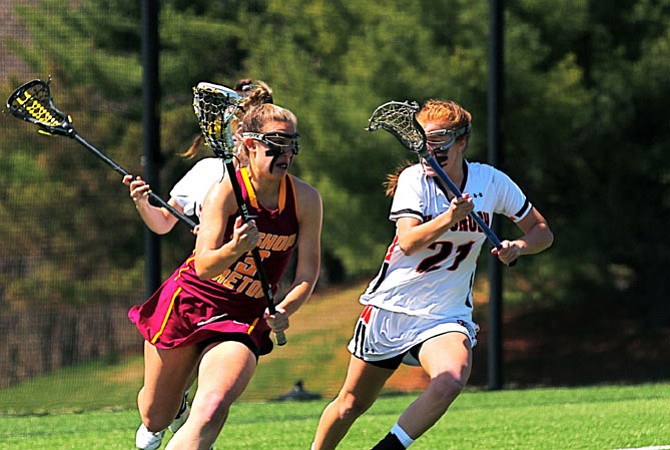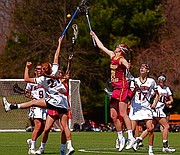 The Bishop Ireton girls' lacrosse team is still considered one of the best in the nation and the Cardinals' goals remain intact.
But on Saturday afternoon in Owings Mills, Md., the defending WCAC and VISAA state champions were reminded that they can still end up on the wrong end of a blowout.
In a matchup of the top two teams in the Nike/Lacrosse Magazine national rankings, the No. 1 McDonogh Eagles throttled No. 2 Bishop Ireton 14-4 on April 11.
A goal by Ireton's Kelly Larkin tied the score at 1-all with 19:27 remaining in the first half. But McDonogh scored 10 of the next 11 goals to take a commanding 11-2 lead early in the second half.
The Cardinals finished with as many yellow cards as goals (4).
"McDonogh is a machine," said Ireton senior and University of North Carolina signee Charlotte Sofield, the 2014 WCAC Player of the Year. "They have an awesome starting 12, their next 12 is just as good and they keep coming at you. We want to strive to do that and that's what we're looking for. It was good seeing that in action, but it also gives us a goal. That's what we want to be."
After falling behind 11-2, the Cardinals showed signs of life with back-to-back goals by Sofield and Larkin, cutting the deficit to 11-4 with 19:51 remaining. McDonogh responded by scoring the final three goals of the game.
Kayla Marshall scored a first-half goal for Ireton.
"We have a lot to work on," senior Kelly Mathews said. "They're a good team. We lost to a good team, we know that. We're not going to get defeated about it because we know what we're capable of and we know we didn't play our best lacrosse game today and our best lacrosse beats a lot of really good teams.
"We have to put it together and play our best game every game."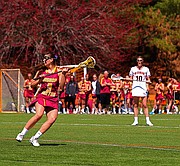 Ireton entered the contest with an 8-0 record, including wins over nationally-ranked opponents Georgetown Visitation and Roland Park Country. The Cardinals were ranked No. 3 by USATODAY and hadn't lost since April 25, 2014. But Ireton struggled at both ends of the field against McDonogh, ranked No. 1 by USATODAY, and finished the game down a player after receiving its fourth yellow card.
"As a defensive team, we like to play an aggressive style," Ireton head coach Rick Sofield said. "We like to go out and we like to challenge people. We want to be disruptive. That's our motto on defense: We want to be disruptive and we want to dictate the tempo. In this game, we were getting called for too many fouls and we didn't adjust our game and we need to be better about that."
Despite the lopsided loss, the Cardinals remain focused on their goal of winning "six games in May." Ireton needs to win three WCAC tournament games to repeat as champion and three state tournament games to win its second consecutive VISAA title.
When asked if the team's confidence could be affected by Saturday's defeat, Rick Sofield said "absolutely not," and referenced a rough patch last season, when the Cardinals suffered four losses in a seven-game stretch.
"This is a mature group of girls," he said. "Last year, we had a bump in the middle of the season. We lost four out of [seven] games, including a 10-goal blowout to a team, Brighton, from upstate New York, who is very good. We've been through this situation before.
"I told the girls: Our schedule, it's like the NFL — you're not going to go undefeated and win the Super Bowl. You're going to lose some games along the way. If we play our best game today, we can compete better than we did. We didn't play our best game today, we got thumped. We've got to brush it off and get ready for the playoffs. That's what this is about. It's like an NFL season."
Ireton will travel to face Elizabeth Seton (Bladensburg, Md.) at 4 p.m. on Thursday, April 16. The Cardinals will travel to Georgia to face Milton High School on April 18. Milton is ranked No. 10 in the Nike/Lacrosse Magazine poll. On April 11, Milton defeated Georgetown Visitation 14-12 in overtime and lost to St. Stephen's & St. Agnes 13-12 in overtime.
Visitation is tied for 18th in the Nike/Lacrosse Magazine rankings and St. Stephen's & St. Agnes is No. 4.
"It's great if we could beat McDonogh," Charlotte Sofield said. "That would be awesome. But the main thing is our six games in May and that's what we want. We want the WCAC championships and we want state championships. That's our end goal. That's what is at the end of the yellow brick road and this is just a stop along the way."