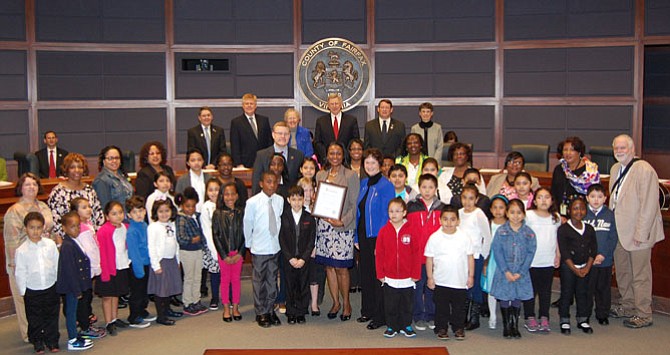 Mount Vernon Woods Elementary School students turned the Board of Supervisors auditorium into a concert hall Tuesday morning, April 7.
Students sang the school song: "Shout it loud, Mount Vernon Woods, shout it loud, Mount Vernon Woods. We are strong and we are free, Mount Vernon Woods is good for me."
The Board gave three dozen students 12 seconds of applause.
"I'm not going to apologize for my tears, I am so proud of our students, I am so proud of them," said Dr. Pamela Simpkins, principal of Mount Vernon Woods, which opened in 1966.
The Board of Supervisors recognized the school for its 50th anniversary.
"I grew up right next door to Mount Vernon Woods as a youngster," said Supervisor Jeff McKay. "I spent a lot of time in the building and on the grounds with youth sports and other things. It's been such a vital part of the community, its embedded in the community that it serves.There's more than 700 students there."
Reading a proclamation congratulating the school, its students, teachers, parents and administrators, McKay gave a history lesson, too, educating the auditorium how "the school was built on a tract of land called Muddy Hole Farm, one of five farms that made up the original Mount Vernon Estate and Woods Plantation," McKay said.
"This 50th anniversary is special and Mount Vernon Woods Elementary School is a real special school on the highway," he said.
Simpkins called her school a place "where teachers are dedicated, students are inspired to learn, and parents are engaged in their child's education."
"Our mission and vision can be encapsulated in three words," she said. "Pride, persevering, and positive: pride in ourselves, persevering in our efforts. and positive in our outlook. We have 701 students who are learning to make education their priority and phenomenal teachers who are committed to making our students positive future a reality."
A few weeks ago, McKay was at a public meeting regarding the park across the street from the school, Muddy Hole Farm Park. "We get plenty of adults that come and testify about their opinions on what they think the park should be."
But what made the meeting special, he said, was the way the elementary students also engaged in public advocacy, drawing their own testimony of what they envisioned for the park across the street from the school.
"They are actively involved in the community and everybody was delighted to see that," said McKay. "Many of the students had it right. What they drew and wanted in the park is exactly what we are going to do."
"Thank you for this special recognition," said Simpkins.