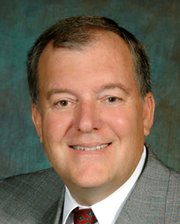 Three Republican candidates are seeking their party's nomination to run for Sully District supervisor. The nominee will be selected April 25, between 10 a.m. and 4 p.m., at a Firehouse Primary at Westfield High. The winner will face Democrat School Board member Kathy Smith to replace the retiring Michael Frey (R) as Sully District supervisor.
Sully District residents should vote for me because I know how to get things done and have a proven track record of accomplishments for the Sully District. I will treat the position as my full time job. My opponents will maintain their current full time occupations and treat the position as a part time job. As the current Sully District planning commissioner, I constantly work with businesses, residents, and staff to promote economic growth in Sully and in all of Fairfax County. I am the only candidate who is knowledgeable and experienced, and I have the record to prove it. One of my accomplishments is helping to secure $20 million of amenities, to include roads and athletic fields, for the Sully District with no use of taxpayer dollars. My opponents have no such background.
I have lived in Sully for 35 years, and know both the history of where issues have been and the many parameters that influence the economic decisions in Fairfax County. Concerns such as land use, transportation, school facilities, cell towers, excessive taxes and parkland acquisition are my forte. I have the knowledge of the process and legal procedures to get things done. These are skills that I have honed over many years. My opponents would be at a loss facing the many legal and mandatory regulations. I have the contacts and leadership expertise to understand where a problem started and how to correct it. I am knowledgeable on various sources of funding and how to use them to avoid exceeding the Fairfax County budget. My last assignment in the Air Force was as agency director for National Security and Emergency Preparedness. In this position, I oversaw all aspects of Air Force support to Homeland Security, a vital position that required both leadership and experience to be successful. This background, coupled with my years as a small business owner and my extensive community experience makes me the most qualified person for the job.
Another very important quality I have is my bi-partisan experience. Despite being outnumbered as a Republican on both the Housing Authority and the Planning Commission, my colleagues have on several occasions elected me to be the chairman of various committees because I know how to bring people together to get things done in a fair, yet efficient, manner. At my campaign kickoff, an astounding 20 percent of the attendees were Democratic supporters. I will be in the best position to defeat the Democratic candidate in November.
Many in the media have asked what prompted me to get into the race a month after my opponents declared their candidacy. Quite frankly, it was the number of phone calls I received from community leaders, individual parents in the youth sports community, and business leaders urging me to run. They like my approach of listening to concerns and then charting a course of action to address them. From master planning for parks, trailers at schools, youth athletic field needs, or a myriad of other issues, these longtime supporters thought I would be the best person for the job.
To summarize, I will be a full time supervisor. My leadership experience in the Air Force and my Planning Commission involvement, plus 35 years of living and volunteering in Centreville and Fairfax County make me the best choice as the next Fairfax County supervisor for the Sully District. I am the only candidate with a proven track record of getting things done for Sully residents.
Please take 10 minutes and vote at Westfield High School this Saturday, April 25. Thank you.