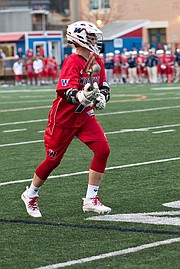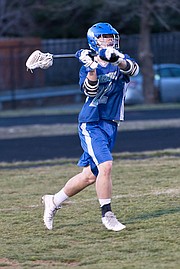 Churchill, Wootton To Face Off Thursday
The undefeated Churchill and Wootton boys' lacrosse teams will face one another at 7 p.m. on Thursday, April 23 at Churchill High School.
The Churchill Bulldogs are off to a 10-0 start, including a 17-8 win over Poolesville on Saturday. Nine of Churchill's 10 wins have come by a margin of at least nine goals.
The Wootton Patriots were 6-0 entering Tuesday's game against Bethesda-Chevy Chase, including a 13-5 win against Walter Johnson on April 17. Wootton traveled to Sherwood on April 14 and edged the Warriors 12-11.
Churchill defeated Sherwood 19-4 on April 16.
Churchill and Wootton met in last year's 4A/3A West region championship game, with the Patriots winning 14-12. The Bulldogs had won the previous two region titles, snapping Wootton's streak of six straight region championships.
Whitman Baseball To Face Wootton
The Whitman baseball team will travel to face Wootton at 3:30 p.m. onWednesday, April 22.
Whitman is 5-5. The Vikings defeated Churchill (5-2) and Walter Johnson (8-1) last week before losing to B-CC 8-2 on Saturday.
Whitman pitcher Sam Berson earned the win against WJ, allowing one run on two hits over six innings while walking one and striking out seven.
Eric Wayman went 4-for-4 with two runs and an RBI for Whitman. Sean Cook and Danny Mills each had two hits.
Wootton is 2-6, including a 10-3 loss to Quince Orchard on Saturday.
Churchill Softball Starts 6-3
The Churchill softball team won six of its first seven games and entered this week with a 6-3 record.
The Bulldogs have scored double digit runs in each of their six victories.
Churchill will host Poolesville at 3:30 p.m. on Wednesday, April 22.