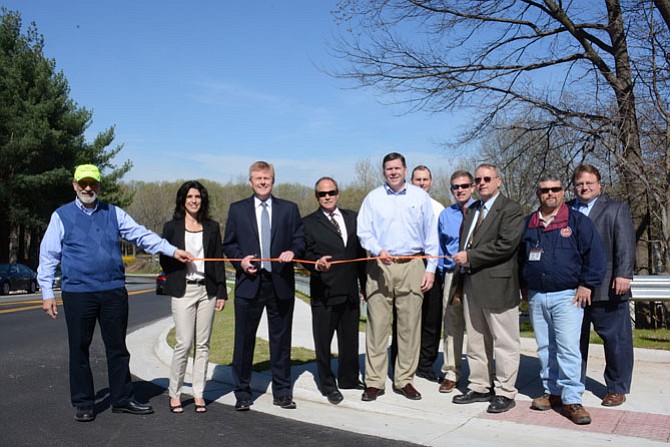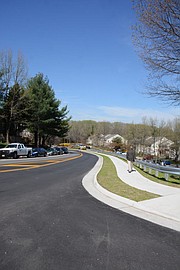 Construction of a new stretch of sidewalk along Burke Commons Road only took about six months to complete. But getting to that point took much, much longer.
There was already a paved path, set in from the road, leading from Burke Centre Parkway towards Roberts Parkway; however, that path ended at at Meredith Circle. What followed was a shoulder of roadside parking for about 20 vehicles, a guardrail and a sharp hill down away from the road.
"It was literally a missing link," Patrick Gloyd, Burke Centre executive director, said of the old stretch of road. "You got to this point and you were forced into the road. This helps us connect all pedestrian trails and paths."
With two shopping centers and Terra Centre Elementary School around the south end of Burke Commons and the Commons Community Center and Burke Centre Amtrak-Virginia Railway Express station accessible from the north end via Roberts Parkway, having a complete protected pathway was crucial for increasing the multimodal accessibility of Burke.
"This little connection has a big effect," said Supervisor John Cook (R-Braddock) at an April 16 ribbon-cutting ceremony for the completed sidewalk. Cook was optimistic community members will take advantage of the new connection to leave their cars at home and make trips to the shopping centers or train station on foot or bike instead.
Chris Wells, the pedestrian program manager for Fairfax County Department of Transportation, said the Board of Supervisors authorized funding for the project from commercial and industrial tax revenue in October 2009. Wells also said similar projects typically take around three to four years to complete from start to finish, so this was a little longer than average.
But because Fairfax County had to retroactive-engineer the entire patch of roadway, it was much more complex than simply pouring a few hundred feet of concrete.
According to James Horstman, an engineer with Fairfax County Utilities Design & Construction, a laundry list of modifications needed to be approved by the Burke community, the county and be in compliance with the Americans with Disabilities Act: The top layer of road asphalt was milled in order for the street to be widened and accommodate an all-new curb, gutter and storm sewer structure; handicap-suitable ramps were added to each end of the sidewalk; and the new guardrail and handrail were added to replace the old guardrail.
All told, the construction cost $324,000, Horstman said.
"We're used to projects taking time," Gloyd said. "And it becomes much bigger than it seems. But this is a microcosm of community and local government coming together to accomplish a goal."