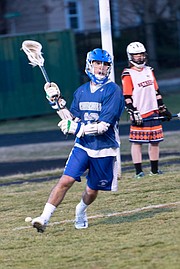 Churchill Boys' Lax Beats Wootton, WJ
The Churchill boys' lacrosse team extended its winning streak to 12 games with victories over Wootton (14-8, April 23) and Walter Johnson (16-5, April 25).
Churchill lost to Wootton in last season's 4A/3A West region championship game.
The Bulldogs faced Landon on Tuesday, after The Almanac's deadline. Churchill entered the game with a 12-0 record and the No. 8 ranking in the Washington Post. Landon was 15-2 and ranked 1 in the Post.
The Bulldogs will close the regular season on the road against Quince Orchard (11-1) at 5 p.m. on Thursday, April 30.
Wootton entered Tuesday's contest with Springbrook with a 6-5 record. The Patriots will host Oakton (Vienna, Va.) at 7 p.m. on Thursday, April 30.
Whitman Baseball Wins Fourth Straight
The Whitman baseball team defeated Watkins Mill 10-0 in five innings on April 27, giving the Vikings four straight victories while improving their record to 9-5.
Ben Rosenblatt drove in two runs for Whitman.
Whitman faced Blair on Tuesday, after The Almanac's deadline.
The Vikings have three games remaining in the regular season, starting with a home game against Urbana at 4:30 p.m. on Friday, May 1. Whitman will host St. Albans at 2 p.m. on Saturday and will travel to face Clarksburg at 3:30 p.m. on May 5.