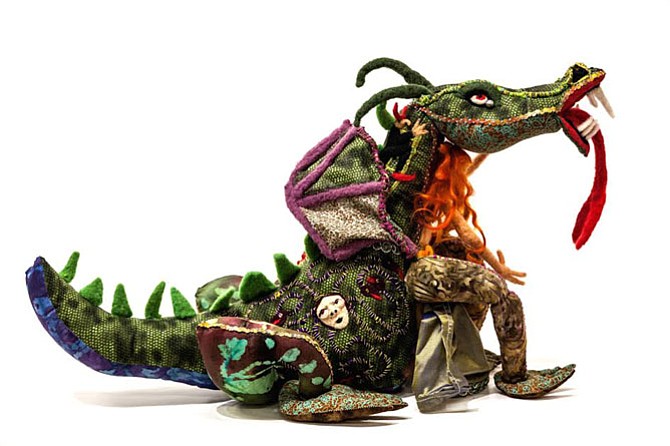 Friday/May 1
Taste of Cinco de Mayo. 6:30 p.m. at Durant Center, 1605 Cameron St. Food sponsors include South Austin Grill, Los Toltecos and Dos Amigos. The Quetzales Mexican Dance Ensemble will perform as well as Latin jazz band Ocho de Bastos. Individual tickets are $5 and family tickets are $15 in advance, $10 and $20 at the door. Visit www.alexandria.gov/webtrac.
"Fly by Light" World Premiere. 6:30 p.m. at the National Geographic Auditorium, 1600 M St. NW, Washington, D.C. Alexandria's 532Yoga will host One Common Unity's presentation of "Fly by Light," a documentary detailing the experience of four young people who participate in Peace Education Program in West Virginia. Tickets are $20. Visit www.flybylightworldpremiere.brownpapertickets.com to buy tickets.
Opening Reception. 7-9 p.m. at DelRay Artisans gallery, 2704 Mount Vernon Ave. During the "MIX: Adventures in Mixed Media" reception, curators Karen Schmitz (Del Ray Artisans) and Judy Gula (Artistic Artifacts) will give several awards for MIX masterpieces and award prizes for best dressed guests in "MIX & Do Not Match" attire. Free. Visit www. thedelrayartisans.org.
Art on the Rocks. 7-10 p.m. at The Art League, Inc, 105 N. Union St. Local mixologists with create cocktails and appetizers based on a piece of art. Tickets are $45-55. Visit www.theartleague.org.
"Shakespeare's Sister: Women in the Arts." 7:30 p.m. at Northern Virginia Community College, Alexandria Campus, Rachel M. Schlesinger Concert Hall and Arts Center, 5000 Dawes Ave. This program will feature female voices through music, poetry, prose and visual art through performances by the NOVA Alexandria Band, Community Chorus and Jazz Ensemble, along with art and design work by NOVA Studio. Free. Visit www.facebook.com/events/549230145217810.
Friday-Saturday/May 1-2
"The 25th Annual Putnam County Spelling Bee." 7 p.m. at Mount Vernon High School, 8515 Old Mount Vernon Road. Mount Vernon High School presents musical comedy of six students vying for a spelling championship. Tickets are $5-10. Visit www.mvhstheatrearts.com.
Saturday/May 2
Java Jolt. 10 a.m. at the Alexandria Archaeology Museum, 105 N Union St. Blair Meerfeld is a master stoneware potter, as well as the current Ceramics Department Chair at the Art League. He will discuss the Germanic influences on early American stoneware craftsmanship. Free. Visit wwwalexandriava.gov.
Genealogy Walking Tour. 10:30 a.m.-1 p.m. at Alexandria Black History Museum, 902 Wythe St. Tour the Alexandria Black History Museum, Charles Houston Recreation Center's Hall of Fame Exhibit, Saint Joseph Catholic Church, and selected sites on Columbus, Alfred and Pendleton Streets. Co-author of "African Americans of Alexandria, Virginia: Beacons of Light in the Twentieth Century" Char McCargo Bah will lead. Tickets are $15 for children under 16, $30 for adults. Visit www.alexandriava.gov.
Pohick Church Tours. 1-3 p.m. at Pohick Church, 9301 Richmond Highway. During the colonial period, Pohick Church was the congregation of many of the area's most prominent families, including the Washingtons, Masons and Fairfaxes. Free. Visit www.pohick.org.
"Secrets of the Paper Garden." 2-5 p.m. at Del Ray Artisans, 2704 Mt. Vernon Ave. Learn how to make flowers out of Italian papers. $35 for members, $45 for nonmembers, plus a $15 supplies fee. Visit www.thedelrayartisans.org.
Joan & Joni Tribute. 7 p.m. at St. Aidan's Episcopal Church, 8531 Riverside Road. Allison Shapira & Kipyn Martin with Adrianna Naomi will perform a tribute to folk singers Joan Baez and Joni Mitchell. Tickets are $15 in advance, $18 at the door. Visit www.focusmusic.org.
Saturday-Sunday/May 2-3
Revolutionary War Encampment. 8 a.m.-5 p.m. at George Washington's Mount Vernon, 3200 Mount Vernon Highway, Mt Vernon. View reinactments, attend lectures, and learn more about military techniques from the time of the Revolutionary War. Admission is included in the cost of a general admission ticket. Adult tickets are $17, youth tickets 6-11 are $9, children younger than 6 are free and senior tickets are $16. Visit www.mountvernon.org.
Sunday/May 3
Alexandria's Walk for Animals. 9 a.m.-12 p.m. at Market Square. Visit exhibits designed for animals and people, and walk to support the Animal Welfare League of Alexandria. Registration is $25 in advance, $40 on-site. Visit www.alexandriaanimals.donorpages.com.
Titan Expo. 1-4 p.m. at T.C. Williams High School, 3330 King St. The Titan Expo is a community event featuring carnival games, inflatables, bake sale, bingo, car bash, large used book sale, and music by local musicians. Free. Call 703-824-6800.
Artists Reception and Award Ceremony. 1-3 p.m. at Green Spring Gardens, 4603 Green Spring Road. Artists participating in the Paintings of the Potomac Valley Watercolorists exhibit will be recognized by artist and educator Dana Cibulski. Free. Visit www.fairfaxcounty.gov/parks/greenspring.
Running of the Chihuahuas. 1-4 p.m. at SW Waterfront, DC, between 6th and 7th streets. Celebrate Cinco de Mayo with food, drink, and a chihuahua race sponsored by Alexandria's On Tap Magazine. Admission is free. Visit www.ontaponline.com/race.
Gallery Talk. 3 p.m. at Athenaeum Gallery, 201 Prince St. Artist Beverly Ress discusses her work. Free. Visit www.nvfaa.org.
New Dominion Chorale. 4 p.m. at Rachel M.Schlesinger Concert Hall and Arts Center, 4915 East Campus Drive. New Dominion Chorale will present a program of Gilbert and Sullivan and Classic Musical Theater to close its 24th season. General admission is $30, $25 for seniors; $5 students and children; $20 for groups of 10 or more. Visit www.newdominion.org.
May 3-31
"Perceptions." 11 a.m.-6 p.m. at The Associates Gallery at the Torpedo Factory, Studio 319, 105 N Union St. The "Perceptions" exhibit will feature 3-D artist Erika Cleveland, painter Ellen Delaney, graphic artist Kara Hammond, and street photographer Val Proudkii. Free to attend. Visit www.torpedofactory.org.
More like this story