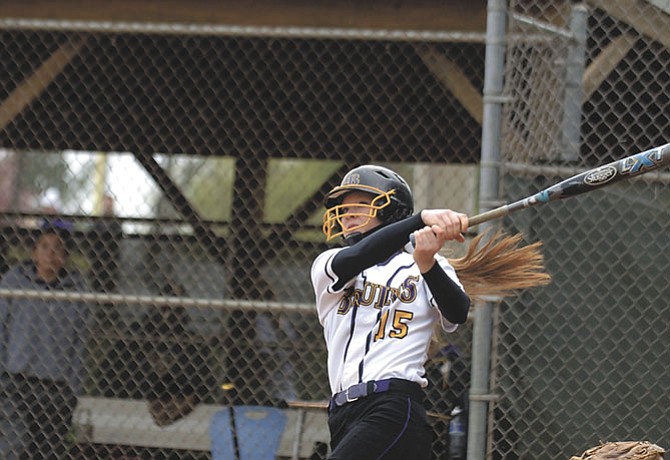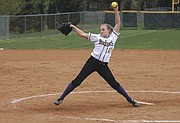 The Lake Braddock softball team was in control for six innings during Saturday's contest against Bishop O'Connell, one of the top private-­school programs in the area.
Junior catcher Caroline Jones set the tone in the batter's box, driving in a run in each of her first three at-­bats, including smacking a solo home run over the fence in left-­center to lead off the bottom of the fourth.
Senior pitcher Amanda Hendrix held O'Connell scoreless, limiting the Knights to just three hits. The left­hander even worked her way out of a bases­-loaded, no­-out jam in the fourth.
After six complete innings, Lake Braddock led 3-­0 and was on the verge of continuing its undefeated season. But the Bruins ran into trouble in the seventh, when a dominant performance transformed into an afternoon of adversity in a single inning.
O'Connell scored nine runs on eight hits during the top of the seventh inning and the Knights added a blemish to the Bruins' record with a 9­-3 victory on April 25 at Lake Braddock Secondary School.
The Knights sent 13 batters to the plate during the seventh inning and all nine members of the O'Connell lineup either reached base at least once or drove in a run.
First baseman Olivia Giaquinto led off the decisive frame with a single and later ripped a three­run homer. She finished the game 3-­for-­3, reaching base four times.
"Going into the top of the seventh," Giaquinto said, "we kind of came together and we were like, 'We've got to do this now and we're going to do this.'"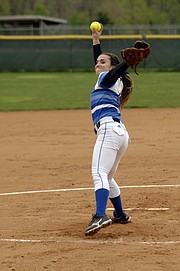 Lake Braddock head coach George Rumore said Hendrix suffered a back injury during the game and the team's No. 2 pitcher was unavailable due to being on an orchestra trip.
"Amanda's back went," Rumore said. "She pulled her back around either the fourth or the fifth [inning]. ... She hung in there, but then come the seventh her back was bothering her. I know I'm making excuses, it's just a fact."
JONES, a Villanova commit, had a big day in defeat. She went 3­-for-­4 and drove in all three Lake Braddock runs. Jones gave the Bruins a 1-­0 lead with an RBI double in the first inning, extended the lead to 2-­0 with a solo homer in the fourth, and delivered a run­-scoring single in the fifth.
Jones said she was motivated by facing O'Connell sophomore pitcher Patty Maye Ohanian, who was Jones' teammate at Lake Braddock in 2014 before transferring to the Arlington private school.
"This was a game that I really wanted," Jones said. "I did really want to hit well. I used to play travel with [Ohanian], I played high school with her and I don't play anything with her anymore. ... I wanted to show her that we are a good team, we still can hit ..."
Ohanian, a University of Illinois commit, earned the win against her former team. She surrendered three runs on nine hits, while walking two and striking out three.
"Before the game in left field ... I said this game is more than just a win for me," Ohanian said. "I'm playing for kind of my name, kind of my respect. I want to walk out of here with my head held high. I knew that there was no one I'd rather do it with than all those [O'Connell] girls.
"I think they all had an understanding that this was a really important game for me and so did Coach Tommy [Orndorff], and that's why he let me pitch."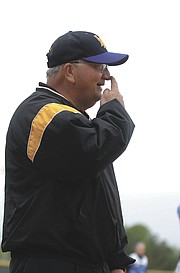 Lake Braddock freshman center fielder Eleanor Mataya finished 2­-for-­4.
Senior shortstop Katherine Plescow, Hendrix, and freshman third baseman Ally Kurland each had one hit.
The loss dropped Lake Braddock's record to 11-­1, but Rumore remains confident.
"[It equates to] a high­dollar scrimmage and we had it," Rumore said. "Unfortunately, things happen."
Lake Braddock reached the state tournament last year and doesn't appear to be slowing down. Despite four new starters and the graduation of standout pitcher Ashley Flesch, the Bruins are 7-­0 against Conference 7 opponents, including a pair of shutout victories against defending 6A state champion South County.
"I think we use [the O'Connell loss] as great motivation," Jones said. "I think we did play well until the last inning and we all recognize that we did play well. We just had one bad inning and it cost us the game. I still think that we're really motivated, we have our goals set high and I think we're still looking to achieve [them]."
What are the team's goals?
"We want to win states, absolutely," Jones said. "We were so close last year. ... We really think we can do it this year."
LAKE BRADDOCK will look to get back in the win column when the Bruins travel to face Lee at 6:30 p.m. on Thursday, April 30.
"I was happy with [the Bruins' effort]," Rumore said. "We're No. 3, [O'Connell is] No. 2 [in The Washington Post softball rankings]. ... We play with whoever's in our district and the girls did a great job and we just needed [Hendrix's] back to hang in there a little longer and I think it would have been over."