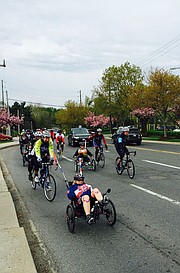 About 600 riders, including approximately 130 injured veterans, rode through Potomac en route to the Civil War battlefields of Gettysburg, Pa. Saturday morning, April 25, around 9:30 a.m. The ride is partly organized to give opportunities for the public to honor America's servicemen and women who have been wounded or injured, as they set and achieve new goals, according to its website, www.worldteamsports.org.
Face of America ride has brought together civilians, active duty military, first responders and adaptive veterans in an inclusive bicycle ride.
"We all ride the same road," reads their motto.
Participants from 37 states, Puerto Rico, Canada and Denmark participated and traveled along MacArthur Boulevard and Falls and River roads. Participating injured veterans include individuals who have lost vision, hearing, or limbs, veterans with post-traumatic stress disorder or traumatic brain injury, or who are paralyzed. For many of these injured veterans, riding in the Face of America is an important part of their physical fitness program, and provides an opportunity to connect with other veterans who face similar life challenges.
Military veterans with disabilities pay no fees to participate. All other participants pay a minimal registration fee and need to meet fundraising goals.
Before they reached Potomac Saturday morning, riders had already travelled from the Pentagon and continued to Frederick where they stopped for the evening. The next morning, April 26, riders biked another 55 miles to the historic battlefields of Gettysburg, Pa.