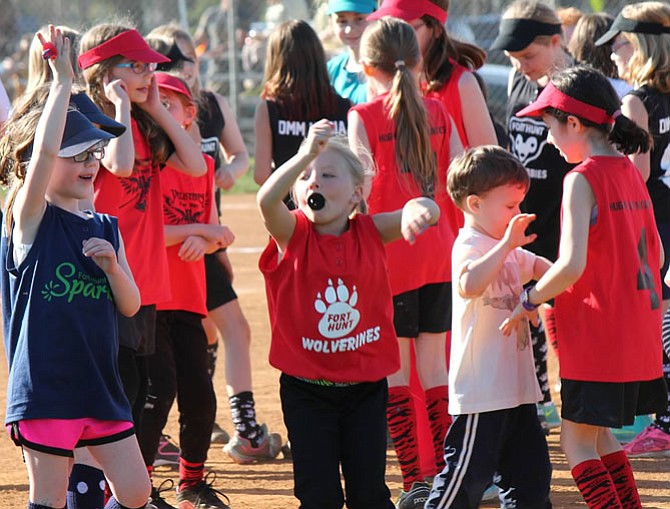 Photo Gallery
Fort Hunt Softball Opening Day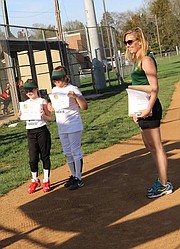 Click Photo for Flash
Fort Hunt Softball held its Opening Day celebration on Sunday, April 12, at the Walt Whitman softball complex. Approximately 400 people including players, family members and volunteers attended. The party started off with a picnic, games and dancing.
Cindy Jackson, former Fort Hunt Softball commissioner, was recognized with the Lifetime Volunteer Award. Her contributions to Fort Hunt Softball and the athletes the organization serves includes coaching many teams and volunteering in all aspects from field maintenance to administration.
Roberto Arroyo received the Commissioner's Volunteer of the Year Award for 2014. Arroyo was recognized for consistently volunteering his time to help the players develop. He has coached numerous teams over the years, some with his daughter as a player and many not. He continues to give his time and expertise to Fort Hunt Softball by volunteering at the weekly pitching clinics.
The Presentation of the Teams Ceremony included three Rookies teams (K-2), five Juniors teams (3rd /4th grade), four Minors teams (5th/6th grade) and two Majors teams (7th grade-and-up). The presentation was kicked off by introducing the West Potomac Varsity and JV softball teams and was concluded with the National Anthem. The ceremonial first pitches of the season was thrown out by both Jackson and Arroyo.
Fort Hunt Softball League Sponsor is Fort Hunt Sportsmen; Field Sponsor is Dr. John A. Schehl D.D.S. and Dr. Melanie D. Allgeyer D.M.D.; Opening Day Sponsor is The Physical Therapy Zone; Team Sponsors are Sew N Luv, Hollin Hall Automotive, Primo Restaurant, Hughes Orthodontics, Dick's Sporting Goods, Village Hardware, Del. Scott A. Surovell, La Prima Catering, DMM Media, Southside 815 Restaurant and Misty Klapper & Associates Court Reporting Services.
FHYAA Softball offers spring and fall softball for girls ages 6 to 18. For more information visit www.FHYAAsoftball.org.